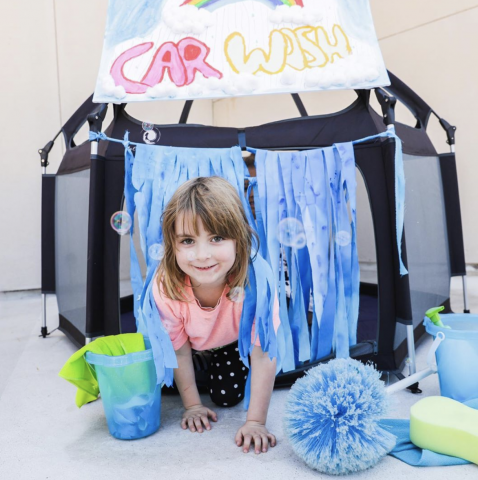 - July 9, 2020 /PressCable/ —
Families all over are getting creative on how to entertain their kids during a global pandemic. The California Beach Co. is helping parents stay sane during quarantine by offering countless ideas to entertain their kids using their patented Pop 'N Go Playpen®.
What looks like your average playpen happens to be the most innovative one on the market. The Pop 'N Go Playpen® trademarked a specific pop up and release technology that makes this tent ready for play in seconds — literally.
"We have a son ourselves, and we know what it's like to haul around heavy gear to keep our child happy," says CEO and Co-Founder of The California Beach Co. Austin Wright. "I also recall countless hours trying to assemble new toys for my kids, while they continue to lose their patience with me."
Say goodbye to dysfunctional manufacturing. With this portable playpen, you can have a personal clubhouse for your child set up in seconds.
"We knew there was a need for more functional and practical products on the market, so we began a Kickstarter campaign in 2018," Wright says. "Two years later, we've sold over $10,000,000 and continue to get love letters from our customers saying not only how happy they are with the product, but also how much their child loves their very own play tent."
The California Beach Co. uses their blog and social media as a way to connect with their community even more. During these months in quarantine, they continue to post and blog different ways for kids to have fun and implement safe activities inside the Pop 'N Go Playpen®.
From making a homemade ball pit to starring in the family magic show, you'll want to read these blogs for yourself.
About The California Beach Co.
The California Beach Co. was founded in 2018, and instantly became a Kickstarter and Indiegogo smash hit — raising over $500,000 in the first 30 days of operations. The patented Pop 'N Go Playpen® is widely known as the most lightweight and portable playpen in the world — aiming to serve parents and pet owners by making unique, innovative, and high-quality products that make parenting easier. They have now expanded to multiple eCommerce channels and have their sights set on international expansion to Canada, Australia, Japan, United Kingdom, and more. Click here to shop or learn more about The California Beach Co.
Release ID: 88967853