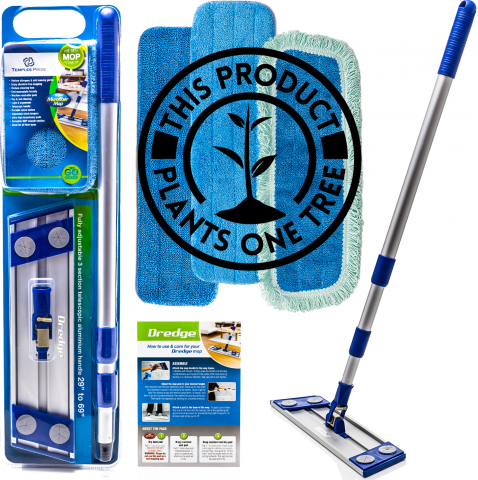 - December 9, 2020 /PressCable/ —
Since the start of the pandemic, with people's increased interest in cleaning everything as well as cleaning more thoroughly, it has been very obvious that demand has risen quite drastically for disinfectants. While disinfectant demand increased, so too did mop sales and by quite a lot as well. However, it is interesting to note that the mops that are selling more are microfiber flat mops and not the old school style cotton loop mop and bucket.
By doing a simple search on an Amazon sales rank history database such as Camel Camel Camel, one can easily see that the sales rank and change over time for the two types of mops are very different when compared. For each product type, three separate products were used for comparison. For the cotton loop mops and buckets, going back to just before the pandemic to the current date, one can see a steady level sales rank graph with little to no growth. For the microfiber mops, there is a sharp curve from the average indicating an increase in sales.
"My mop has maintained steady sales over the pandemic with just a slight decrease compared to last year's sales at this time," said an Amazon seller of a cotton mop and bucket.
"Our sales have actually gone up fourfold since the start of the pandemic," said a spokesperson for Temples Pride, the creator of the Dredge microfiber flat mop. "We have run out of stock twice even though we were and are stocked up much more compared to last year. We have never experienced sales like this in all our eight years of selling on Amazon. Our biggest day during the pandemic sold more mops than our previous two black Friday's put together."
It is an interesting observation that microfiber mops are outselling cotton loop mops. The answer could be in the reviews of the microfiber mops. The most common reason people said they chose the microfiber mop was because of microfiber's ability to remove bacteria and germs.
Temples Pride was founded in 2015 with a mission to provide an environmentally friendly & effective microfiber floor mop. They are also dedicated to reducing their environmental impact by helping to protect critical forest habitat. For every mop that they sell, they plant one tree.
More information about Temples Pride and their Dredge microfiber mop is available on their website.
https://www.amazon.com/Professional-Microfiber-Resistant-revolutionize-Experience/dp/B01AZLM64G
Release ID: 88988748