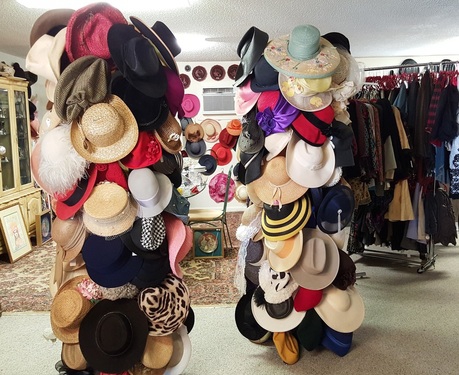 - January 25, 2018 /PressCable/ —
Recently South Florida Review interviewed Lisa Lamka, owner of ReCHIC Unique Boutique. Lisa has been a fashion enthusiast for years. It started when she was an executive in Silicone Valley, and her late husband would surprise her with clothes and accessories. After her husband passed, she moved to South Florida and started selling vintage clothes out of her home online on Etsy.
About three years ago the business grew so large that she had to open a shop. ReCHIC now has over 1000 items for sale in the store and over 1200 available online at Etsy.
Palm Beach residents looking for vintage clothing or a hat for the Kentucky Derby should check out ReCHIC! Lisa encourages people to "play makeup" and enjoy the process. Often women will try on 56-60 hats to find the right one for the Kentucky Derby or special occasion. Her moto is "If You Don't Love It, Don't Buy It."
ReCHIC Unique Boutique loves to help people feel good about themselves. It helps build self-esteem. Their clients range in age from twelve to ninety-six. Imagine walking into a large closet and trying on items from as far back as the 1920's. Or a piece of jewelry that used to be a salt shaker.
At ReCHIC they like to let client's imagination run wild. "After all we are all children at heart and are 'Unique' as the items that ReCHIC Unique Boutique has to sell. We all want to be recognized and complimented on, why not wear something that is as "Unique" as you."
Find more on ReCHIC Unique Boutique by calling (408) 637-8575, or stopping by 700 Old Dixie Highway, Suite 207, Lake Park, Florida 33403
SouthFloridaReview.com is the fastest growing local news and business website in South Florida. Thousands of people visit it looking for deals and local news. It is free for businesses to add their business.
Release ID: 292158