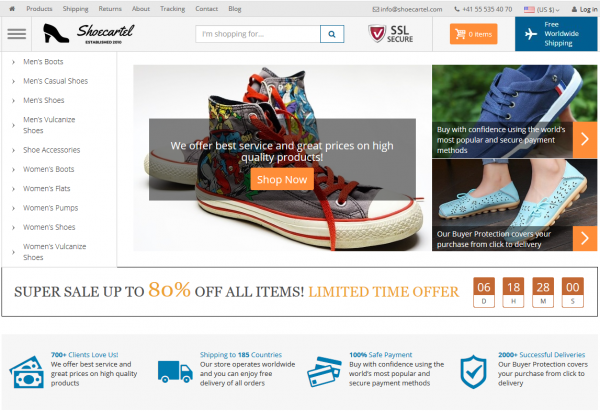 - November 28, 2018 /NewsNetwork/ —
ShoeCartel, a high-quality shoe outlet for men and women, has released the latest trends in shoe accessories. All accessories suit a variety of shoes, tastes and even the most fastidious of shoe wearers. Plus, they heighten comfort, looks and enhance the durability of shoes of all shapes and sizes.
More information is available at http://shoecartel.com.
Recently released the shoe accessory collection includes of a range of orthotic, sport and silicone gel inserts that increase arch and heel support as well as soften the movement of any shoe wearer allowing for greater comfort especially when walking longer distances. Shoe stretchers, heel softeners and anti-slip spikes are also available to improve the capabilities of footwear.
Other accessories on offer at ShoeCartel are glow in the dark, luminous and reflective sports laces, along with overshoes that protect footwear from water, mud and other contaminants. The ShoeCartel also sell a range of doll's shoes – sandals and boots – in 10, 20, 30 and 50 packs. Doll shoes are also available individually for specific dolls.
For those looking to add bling to their footwear, the ShoeCartel also have a collection of rhinestones, glass crystals, buckles and studs available. The choice of shapes and colors are endless.
ShoeCartel, established in 2000, seeks to deliver the latest in shoe trends of the highest quality at the most affordable prices. Plus, they offer complimentary shipping worldwide to over 200 countries.
When asked about ShoeCartel and their service, customers said, "Fast, efficient and very customer focused is the best way to describe ShoeCartel. The company's products are good quality, and they ship relatively quickly."
To find out more about the ShoeCartel, call 41 55 354 4070 or visit the link above. Site-goers can learn more about the company, their services and view their choice of accessories and shoes.
Release ID: 451329