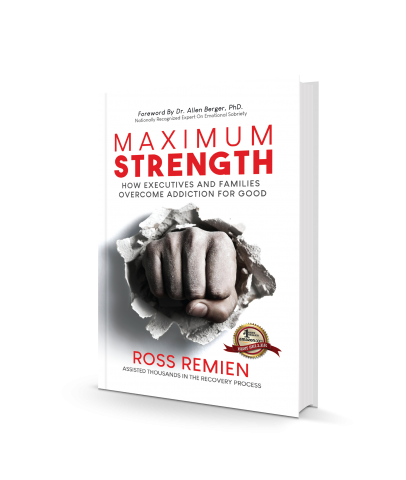 - December 15, 2019 /NewsNetwork/ —
Ross Remien announces the launch of his book Maximum Strength. The book deals with a breakthrough approach in dealing with and overcoming substance addiction.
For more information visit their website at https://rossremien.com/buy-the-book
Ross Remien's newly launched book Maximum Strength is his attempt to correct and help the outdated and ineffective de-addiction programs currently available. According to him, the current system has a failure rate of 95%.
Despite this, nothing has changed in the process for the past six decades. Instead of sitting around and waiting for things to change, Ross Remien is making the change with his new techniques and approach. To this end, he has built a state of the art treatment center in Los Angeles, California.
Ross' method does not follow the traditional process of rehabilitation and the 12 step program etc. In addition to overcoming addiction, his program focuses on preventing relapse. It works equally for those who are caught in drug addiction and/or alcohol addiction.
Many of the patients he works with are small business owners, consultants, executives, and lawyers. People in high-stress occupations like these, sometimes find themselves unable to cope with the pressure and realities of their work and life.
Another group of people who Ross Remien commonly deals with is those in the medical profession. Doctors, surgeons, and dentists have very high-pressure jobs. To complicate matters, they also have easy access to medicines and medical equipment. From there, addiction is just a few short steps away.
Ross Remien's new book Maximum Strength lays out his ideology and technique of overcoming addiction without falling into a cycle of relapses, in simple and clear terms. Being a former addict himself, his passionate desire is to rescue others from the awful circumstances that he went through.
According to the book, the conventional methods of replacing harmful drugs with other medications do not provide a long-term solution. The only thing that works is to teach and train the addict to manage the emotions that cause them to turn to drugs as a coping mechanism.
For more information visit their website given above or at http://rossremien.com.
Release ID: 88939349