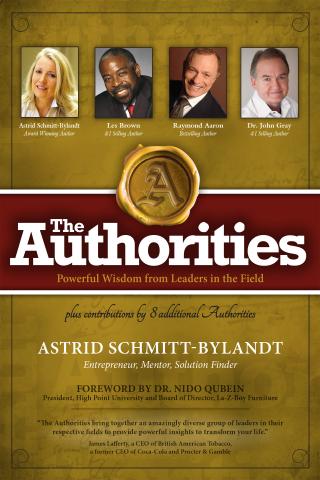 - September 27, 2020 /PressCable/ —
Successful entrepreneur, mentor, and solution finder Astrid Schmitt-Bylandt has launched a new book designed to help people overcome barriers to success to live a fulfilled and happy life. The book is broken down into chapters that ask the reader to consider aspects of their lives to change their thinking and perception.
Find out more at https://www.amazon.co.uk/Authorities-Astrid-Schmitt-Bylandt-Powerful-Leaders/dp/1702558762/ref=sr_1_1?dchild=1&
The newly launched book, 'The Authorities,' presents professional wisdom from successful leaders along with insights from Astrid on her professional success and the growth of her business. She challenges readers to stop using and accepting the excuse 'I can't.'
She empowers people to change the way they think, so that solutions come to mind where problems used to arise. This approach can create change in all aspects of a person's life. To support the argument Astrid presents, she offers real life examples to illustrate how readers may be sabotaging themselves, both personally and professionally.
A key focus of the book is the excuses people may be telling themselves, and the habits that people have created to reinforce those excuses. This negative cycle of thinking is what causes people to become stuck in a routine that they are ultimately unhappy with.
Each chapter asks the reader a question to challenge their thinking and shift their perception. The book acknowledges that while it is not easy to undo years of thinking and habits that have kept readers from achieving success in different areas of their lives, it is a worthwhile exercise.
The goal of the book is to support readers on a journey that could see them changing their lives for the better. Once people take responsibility and acknowledge the power they have, they can create and build the life they want.
A happy reviewer wrote: "The book is broken down into chapters that address many areas of life that people find challenging. It is easy to pick up and read cover to cover, or selected chapters. It features well-known leaders and encourages introspection and action by the reader – I've learned a lot and I'm inspired."
To find out more, interested parties can purchase the book via the link provided. Alternatively, find out more about Astrid Schmitt-Bylandt here https://www.solutions-finder.com
Release ID: 88974476