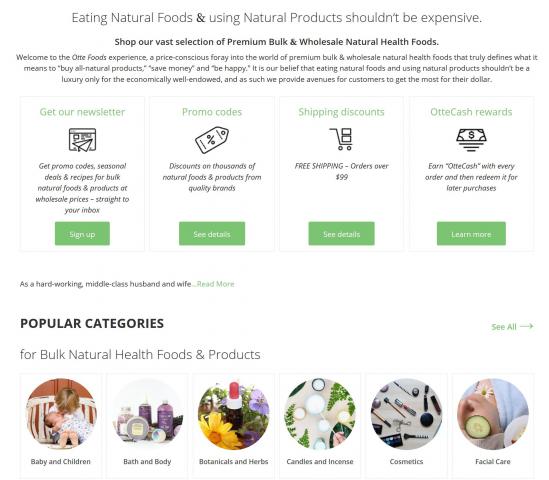 - March 20, 2020 /PressCable/ —
Otte Foods, an Erie, Colorado-based bulk natural foods and products business owned by husband-and-wife team David and Tessie Otte, announced the launch of its dynamically redesigned website, found at OtteFoods.com. The new online portal, according to Otte Foods representatives, will offer customers a significantly faster, more robust and easier-to-navigate experience while adding additional elements such as informative blog content.
The redesigned website comes on the heels of a nationwide ad campaign launched by Otte Foods' marketing division, an effort that has been ramping up over the last year with the purpose of reimagining what Otte Foods is all about.
"Our web developers have been hard at work designing and building a significantly more robust website with far greater ease-of-use characteristics, all of which will impact business operations in a myriad of ways," explains David Otte. "From easier ordering and site navigation to additional content in our blog section chock-full of informative, helpful insight, there's nothing our valued customers won't find here."
Tessie Otte adds, "Otte Foods will continue leading the way among companies more focused on doing the right thing – rather than engaging in corporate tactics that do nothing to improve the lives of ordinary people."
Because the Ottes believe that eating natural foods and using natural products shouldn't be an expensive proposition, they have defined the Otte Foods experience as a "price-conscious foray into the world of premium bulk and wholesale natural health foods" that signifies what it means to buy "all-natural products, save money and be happy."
"Indeed, it is our belief that eating natural foods and using natural products should not be a luxury relegated to only the economically well-endowed, and as such we provide avenues for customers to get the most for their dollar," adds Tessie.
On the Otte Foods website, visitors can shop natural foods and products by diet and brands, with popular diet types falling into categories that include Dairy-Free, Gluten-Free, Wheat-Free, Yeast-Free, 100-Percent Organic, GMO-Free, Fair Trade and Kosher. Some of the brands customers can shop on the website include Amy's, Earth's Best Organic, The Ginger People, Glee Gum, Stacy's and Van's.
A special recipes section of OtteFoods.com offers delicious and nutritious suggestions utilizing ingredients from items Otte team members use in their own homes, with their own families, with some examples being The Many Uses of Pumpkin, 39 Whole30 Instant Pot Recipes, 30 Fall Paleo and Whole30 Recipes and Healthy School Lunch Ideas for Kids.
"The Otte Foods mission is simple: We want customers to save money, stay all-natural and be happy…all while we go to great lengths to provide outstanding customer service," conclude the Ottes.
For more information visit https://ottefoods.com or email info@OtteFoods.com.
Release ID: 88950427