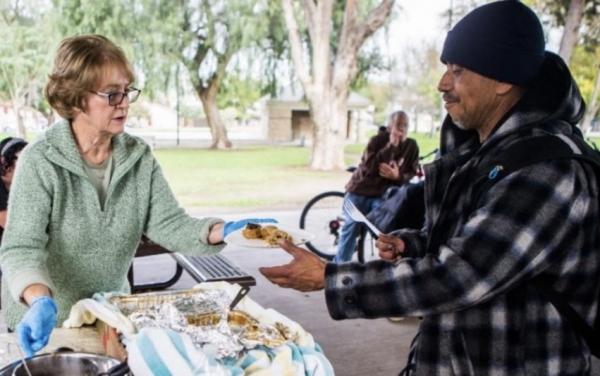 - December 22, 2021 /PressCable/ —
Oscar's Palm Springs, one of the most popular restaurants/entertainment venues in the desert, is hosting its 6th annual Christmas Cheer feast to brighten the spirits of those who may be apart from friends and family or are otherwise disenfranchised. Owner Dan Gore will host the free celebration on Saturday, Dec 25 from 8 a.m. – 11 a.m. that is expected to draw 100 mostly homeless locals.
Among the breakfast items that will be served are pancakes, eggs, sausage, coffee and orange juice. Holiday music will fill the air during the 3-hour celebration, which will be staffed entirely by volunteers including restaurant employees, loyal patrons and area residents.
Volunteer and Palm Springs resident Dan Nugent says he is excited to share the joy of the season with those who are not as fortunate as he.
"I'm so looking forward to spending Christmas morning by helping with the breakfast," says Nugent, who works for a local nonprofit. "It's awesome that Oscar's is doing this and it really demonstrates what the season is truly about."
"While Christmas morning brings an abundance of holiday cheer for many, there are some who experience the blues instead," explains Gore. "Whether they are facing financial challenges, unsteady housing or have few family and/or friends in their lives, we want to brighten their spirits. Our Christmas Cheer event is an annual tradition that all of us at Oscar's cherish. Seeing the smiles on the faces of those we serve is the best gift you can ask for."
One of Palm Springs' most beloved restaurants/bars/entertainment venues, Oscar's Palm Springs is best known for its popular "An Intimate Evening With…" series that features name acts including Dionne Warwick, Sandra Bernhard and Priscilla Presley. Gore has recently accepted the honorary chairmanship to lead the Coachella Valley branch of Caterina's Club, an Orange County nonprofit founded in 2005 that feeds some 5,000 hungry children each night.
Oscar's Palm Springs is located in the heart of downtown at 125 E Tahquitz Canyon Way #108, Palm Springs, CA 92262, the phone is 760-325-1188. For more information, visit oscarspalmsprings.com
*****
Release ID: 89057561