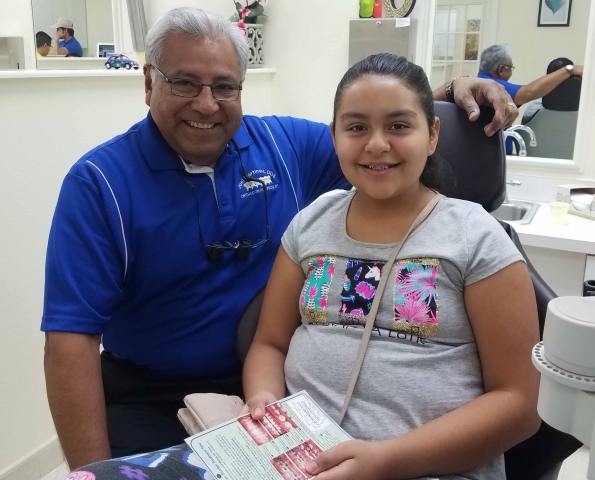 - November 18, 2017 /PressCable/ —
Dr. J. Martinez, a specialist in orthodontic dentistry based in Rio Grande Valley, TX, recently published a blog post on his website which offers advice on snacks that can be comfortably enjoyed by people with braces. This comes in handy as children that may have had braces fitted during the summer holidays could be at a loss on what to snack on while in school.
To learn more about Dr. Martinez' advice on living with braces, visit http://www.rgvbraces.com/life-with-braces
In the blog post, Dr. Martinez gave three different snack options that anyone with braces can safely indulge in. He covers the options for those who are inclined toward sweet snacks, the health fans, as well as the crunchy and salty snack lovers.
For those who have a sweet tooth, Dr. Martinez advises that puddings are an ideal choice since they contain no ingredients that need to be chewed. Puddings can be made at home. The best part is that with home-made pudding, the amount of sugar added can be regulated. Ice cream and yogurt that don't contain nuts are great options too.
The McAllen orthodontist also advises people to go for healthy snacks such as fruits. He, however, cautions against biting hard fruits such as apples and pears. These can instead be sliced into smaller portions or as homemade mixed fruit salads. He cautions against taking store bought fruit cocktails that contain syrup as it may be too sugary.
Lastly, for those who feel that they just can't go without a crunchy snack, Dr. Martinez offers a different way to enjoy them. He writes that crunchy snacks can be chewed after they have been slightly dissolved in the mouth. That will make them softer, reducing the chances of causing damage to the braces. On the other hand, crunchy or salty snack lovers can go for softer nuts such as walnuts and soft granola bars.
As a general rule, however, people with braces are better off brushing the teeth after every meal. This will get rid of any remains that can easily get stuck in the braces and end up causing other complications.
Dr. Martinez and his orthodontic team have been serving Rio Grande Valley for over 30 years. They have built lasting relationships with their clients, having the privilege of treating their clients' children and grandchildren. "My daughter is so happy and excited getting her braces", Bianca V. said in a review of Dr. Martinez' work.
Dr. Martinez studied at the University of Texas Dental Branch in Houston where he got two degrees, Doctor of Dental Surgery (DDS) and Specialty in Orthodontics. He continues to update his skills through professional seminars and courses in order to offer the best services to patients.
The Rio Grande Valley orthodontist and his team are also helping the community with free exams, while at the same time giving aid to the local animal shelter: http://orthodontistmcallentx.com/animal-shelter/
Release ID: 266516