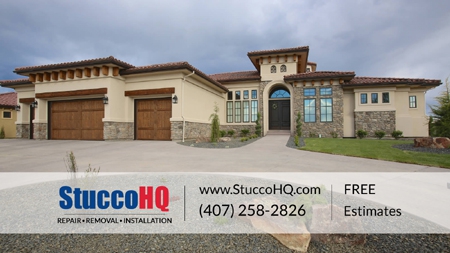 - September 9, 2017 /PressCable/ —
Stucco HQ, one of the leading stucco repair contractors in Orlando Florida area issued a hurricane Irma warning for all Orlando homeowners and business owners. Leadership of Stucco HQ expressed their concerns and wanted for everyone in hurricane Irma's path to be prepared for its strength and aftermath. The company has announced that they are prepared to offer immediate assistance with stucco repair, stucco restoration and any other stucco issues homeowners and commercial property owners of Orlando Florida.
More information is available on their website at http://www.StuccoHQ.com
As live reports come in through reliable media sources and all of the reliable forecast models are now in complete agreement predicting that a direct hit is inevitable along the west side of Florida peninsula. It is now clear that cities such as Tampa, Fort Meyers, Orlando, and Naples will be greatly impacted. Weather experts warn everybody of life threatening conditions such as extreme risks of flooding and high winds which bring distraction.
Stucco HQ wants to make sure all residents of Orlando, FL are at high alert and are prepared for the storm which is coming their way. Company is urging residents to have enough food and water, charge their mobile phones, mobile power sources for the purposes of emergency communications.
Company's spokesperson issued some recommendations in regards of safety of their property:
"It is imperative that people prepare their homes and places of business for the oncoming hurricane. It is highly recommended their windows are boarded up and they have sufficient amount of gas for their generators. Stucco HQ also wants to remind people that it is very important not to run their generators indoors so carbon monoxide poisoning is avoided. Carbon monoxide is dangerous colorless and odorless gas which is the leading cause of accidental deaths in Unites States of America. Please make sure they run exhaust lines which take all of the fumes outside."
Stucco HQ also strongly advises all Orlando residents to perform comprehensive inspections of their homes, businesses, commercial structures right after hurricane passes. It is vital to ensure to address all structural damage right away. The company gives assurance that every stucco repair professional that they employ is available to provide immediate assistance whether it is residential stucco repair or commercial stucco repair that will be needed. Company's representative said that in order to avoid higher costs associated with stucco damage by water intrusion and high winds people should take care of damage as soon as possible.
Everyone who will need stucco repair services will be able to find more information about stucco services by visiting above mentioned website.
Release ID: 237696