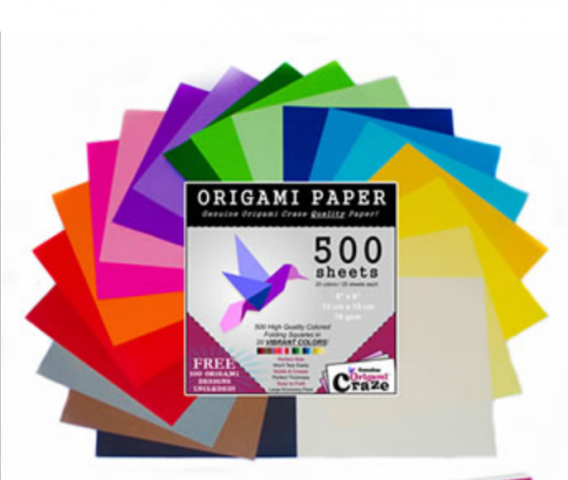 - November 27, 2020 /PressCable/ —
Origami Craze, the leading origami paper company in the United States, is featuring two different origami paper sizes especially for children, a smaller 2 inch square pack and a larger 6 inch square pack and launching them in conjunction with Black Friday Savings.
The two sizes now are:
200 Sheets of 2 x 2 inches and 500 sheets of 6 x 6 inches.
https://www.amazon.com/dp/B00DUSKPUE/
Origami is a fun way to teach children about art, mathematics and creativity. Many origami creations are educational as well. The introduction of two sizes increases the number of possible creations and options in design. The two sizes allow children who really take to origami to further their craft.
Skylar Lear, co-owner of Origami Craze, said, "Kids really need to have fun these days and augment their education anyway they can".
Origami has many uses in the education of children and young adults alike. It helps improve memory, spatial awareness and the ability to work with multiple objects and shapes. It also increases the child's ability to organize things and plan things ahead of time. Origami can also enhance the development of children's imaginations, as well as promote creative problem solving skills.
While some of the earliest pieces of origami were discovered in ancient China, its roots are actually in ancient Japan and China. These ancient cultures developed an innovative, creative and unique style of origami that has been handed down through the ages. Origami also has a long and colorful history with a myriad of designs and styles. In these Covid-19 days, this art form has made a tremendous impact on the education of children across the world as schools are limited and curtailed..
Kids can easily create wonderful structures and having two sizes can just increase the universe of what can be created.
Tracy Lear, co-owner of Origami Craze, said "It is very fulfilling to hear reports from parents who bought our Origami paper and talk about how their children's origami creations are given as gifts to grandparents or to decorate their rooms with their Origami masterpieces."
There's a lot to love about origami. Not only does it teach children about the process of making things on their own, it also encourages them to explore the world of creativity. By using origami, kids are learning about how the world works. The more a child learns, the more likely they are to use these skills to help solve problems and help others. Learning new skills in a fun way is a great way to stimulate children's minds and increase their cognitive abilities, especially when it comes to problem solving skills.
Both packs contain: premium quality origami paper sheets for arts and crafts square sheets, 20 vibrant colors, and double sided colors.
With either pack your children can to create everything from birds to beautiful flowers. In fact, each purchase includes a download link for 100 origami designs.
Available for Purchase at Amazon with a rating of 4.5 stars from over two thousand reviews.
Shop on Black Friday and Cyber Monday for extra savings.
https://www.amazon.com/dp/B00DUSKPUE/
Release ID: 88987068