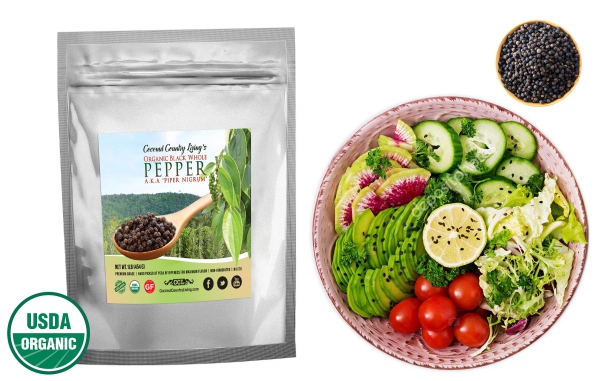 - December 30, 2017 /PressCable/ —
Earlier today, Coconut Country Living, LLC finally announced the release of its organic fair trade black peppercorns – its new household spice shaped like little balls, which have been in development since October 2016. The main aim is to give people the benefits, savor, and aroma of fresh organic real peppercorns while doing good by supporting farmers with a living wage… but doing so with a difference.
MIchael DiSalvo, CEO and best-selling Kindle author at Coconut Country Living, LLC, says: "We wanted to try something new with organic fair trade black peppercorns. Anyone familiar with the paleo ketogenic gluten-free GAPS diet friendly market will probably have noticed how everyone else seems to offer pepper already ground up and tasteless or in bags that don't even close. This is a problem because losing the freshness of black pepper not only adds to its cost as customers have to use so much more to get the same effect in their cooking, but also because these same customers lose the health benefits of one of the most amazing spices in history."
So as a welcome breath of fresh air, these black peppercorns will instead not only be sealed in mylar foil bags that are resealable and guaranteed to lock in freshness, but Mr DiSalvo, best-selling Kindle about the benefits of turmeric, has tailored some mouth watering recipes to help customers find new and amazing ways to wow their family and friends with some unique sweet and savory dishes that are brought to the next level with just a dash of pepper. Coconut Country Living, LLC, chose to make this move because its customers, as connoisseurs of healthy diets that are paleo and gluten free, deserve to have tasty meals that help them reach their goals in a fun way.
Mr DiSalvo also said "We want to give our customers options. With these organic fair trade black peppercorns, our followers have a fresh new possibility. We want them to feel like they have obtained the same "black gold" that made ancient explorers go to the ends of the earth, risking life and limb, to get this marvelous spice when they finally get a hold of this gourmet black pepper. Sparing no expense to give our customers the best is always a risk, but it's always a risk we believe is worth taking."
Coconut Country Living, LLC has been in business for over 3 years, being established in 2014. Since Day 1 it has always aimed to to heal the world through tasty foods.
This isn't the first time Coconut Country Living, LLC has defied convention either. From its founding, Coconut Country Living decided to package its products in gluten and allergen free facilities, away from GMOs, so customers could rest assured they were getting the delicious dishes their families could enjoy with peace of mind.
These organic fair trade black peppercorn balls have just gone live and will be on special sale for January of 2018. To find out more, visit http://www.amazon.com/dp/B074M1S7KW and pick up your free gourmet e-book to make the most of the famous black peppercorn.
For further information about Coconut Country Living, LLC, and these organic fair trade peppercorns, just visit https://CoconutCountryLiving.com and do a search for relevant articles and a link to the organic gluten free products store.
Release ID: 281700