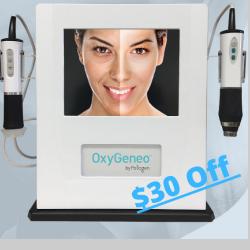 - January 14, 2020 /PressCable/ —
Gregorie's Day Spa, Orange County, CA – Orange County's award winning day spa, Gregorie's, is now offering $30 off the cutting edge OxyGeneo Facial. This breakthrough facial is the hot new trend with celebrities and people wanting to look their very best! The OxyGeneo Facial provides quick and effective results for achieving younger looking skin and is safe and suitable for all skin types. What sets this facial apart is the following six-step process:
Exfoliate – OxyGeneo exfoliates the upper skin layer to remove dead cells, smooth and renew the skin, preparing it to receive active nutrients.
Oxygenate – Oxygenation occurs when OxyGeneo produces CO2 bubbles that gently burst on the skin surface creating a physiological response, sending oxygen rich blood to the area. This increases capillary flow and skin metabolism that result in optimal absorption of active ingredients.
Infuse – The exclusive Capsugen used during this facial cleanses the skin with an active nutrient-rich gel that infuses the ingredients. Clients choose between NeoRevive for rejuvination or NeoBright for skin brightening and texture improvement. Gregorie's professional practitioner will help each client decide which gel is best for their specific skin type and needs.
Peel – Aiding in the removal of dead skin, peeling away debris to improve discoloration, age spots, fine lines and wrinkles.
Massage – OxyGeneo Facial massage promotes oxygen and blood flow in the skin reducing puffiness and creating brighter skin tone and appearance.
LED – Penetrating the skin at different depths, plumping skin, reducing wrinkles and fighting acne causing bacteria.
Each OxyGeneo Facial treatment softens the appearance of fine lines and wrinkles, minimizes pores, hydrates and nourishes the skin, revitalizes a dull complexion and improves the overall facial appearance. Clients can also enhance their facials with power ampule concentrates. These extra potent serums can help with hydration, firming, after sun calming, repairing and rejuvenation.
The OxyGeneo Facial has no downtime and the skin looks and feels great right after the first treatment. If you have an upcoming event, a same day treatment is recommended as the results will provide immediate visible effects. This 6-in-1 super facial offers unparalleled skin nourishment and oxygenation for a smoother complexion and younger looking skin.
For more information, please visit: https://www.spagregories.com/
Release ID: 88942215