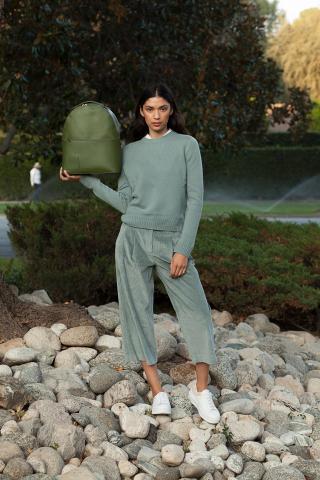 - February 16, 2019 /PressCable/ —
The ultimate eco-luxury brand launches a giveaway from 2/15/19 until 3/14/19
CALIFORNIA, February 15, 2019 – Opus Mind, a contemporary luxury brand, is promoting a social media giveaway this month with prizes totalling a value of $4,200. Opus Mind is backed by a zero-waste mindset and committed to creating luxury bags with upcycled materials, making it a leading environmentally-conscious fashion brand. The brand aims to disrupt the fashion industry with a circular model and is attracting the conscious consumer.
Opus Mind is hosting a 28-days giveaway to celebrate extraordinary women advocating for the environment. The brand is awarding three winners the inaugural bag, the Circular Backpack, a luxury product valued at $1,400 a piece. To enter, participants need to be followers of Opus Mind on Facebook or Instagram (@OpusMind.SF), "Like" the giveaway post, comment in the post what makes women extraordinary and let two friends who would love eco-luxury product know about the giveaway. Winners will be selected at random and announced on March 15, 2019.
"We are thrilled to get our Circular Backpacks into the hands of extraordinary women," says Kathleen Stella, founder of Opus Mind. "I built Opus Mind based on my passion for a circular fashion model, minimizing waste and living a more sustainable life. The fashion industry must change now, and we aspire to have a lasting, positive impact on consumers and the world."
Extraordinary Women is the focus of the Spring 2019 Opus Mind campaign. The purpose of the campaign is to recognize successful, strong women who address some of today's most significant issues around climate change and empower others to make a change.
About Opus Mind
Established in 2017, Opus Mind is an innovative leader in the circular fashion movement, filling the gap between luxury bags and an ethical mindset. Each piece of the Opus Mind collection is handcrafted and intricately designed. The brand operates under the alignment that products should be created with high longevity, sustainable materials, non-toxicity and recyclability.
For more giveaway details, click here: Opus Mind Italian Handmade Backpack Giveaway
Release ID: 483005