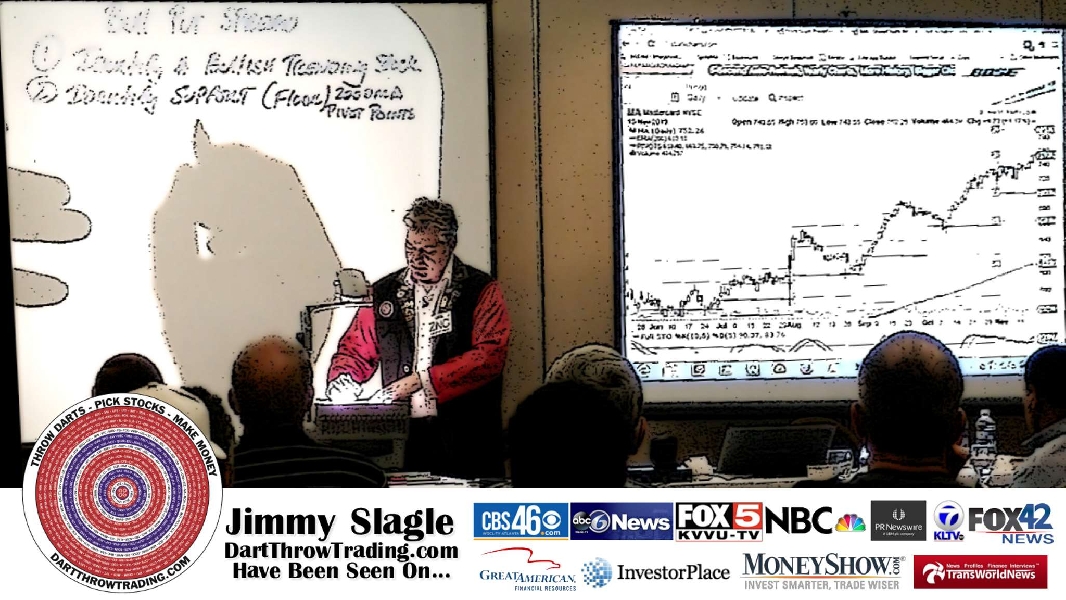 - May 25, 2015 /PressCable/ —
Life is changing (once again) for option spread trading strategy innovator Jimmy Slagle, founder of DartThrowTrading.com and author of "How to Trade Stocks Using Options: The Dart-Throw Traders Strategies to Throwing Darts – Picking Stocks – Making Money". Dart-Throw Publishing announced the book reached number 1 on the Amazon Best Seller List for multiple categories.
The book officially launched in March 2015 and found its way to the #1 spot on several Amazon best seller lists. It received the #1 ranking in Amazon's "Options" category and "Online Trading" category in the United States on Friday, May 22, 2015.
Jimmy Slagle, founder of DartThrowTrading.com, has released the first book of a planned 16-book series in response to the ongoing rush of investors trying to build a trading business to take advantage of the current stock market behavior.
Slagle's book, How to Trade Stocks Using Options, is available at
http://DartThrowTrading.com/options-trading-books
After 25 years as a professional off-the-floor trader and options strategy instructor, Slagle has had the opportunity to work with thousands of investors and traders in their quest to find the perfect trading strategy.
"The perfect trading strategy exists", says Slagle. "Its name is Spread Trading." Many investors believe that spread trading is just a term to describe a group of strategies; however, Slagle argues that it is a trading lifestyle.
When pressed for clarification, Slagle responds, "Most beginning traders start their journey looking for that miracle strategy, that one strategy that will always produce consistent, predictable, high-reward, and low-risk results."
During their quest, explains Slagle, many investors stumble upon one or two strategies that, under the current market conditions, do produce the miracle results they are looking for. The challenge, they soon discover is that the market changes course: bull markets become bear markets, bear markets become range bound.
The markets are in a constant state of uncertainty. Because of this uncertainty, investors and traders quickly begin to discover they need more than one trading strategy. It is because of this need that Slagle has begun work on the "How to Become a Trader" series of books.
The first book in the series How to Trade Stocks Using Options is available at
http://DartThrowTrading.com/options-trading-books
Slagle believes that investors and traders alike will benefit from the series because he has been where they are. "Traders get locked into a specific strategy, like the covered calls or bull put spreads, and then the market changes and they scramble for a way to repair a trade that's gone bad or take advantage of the new market direction. Now they are fighting from behind."
The "How to Be a Trader" series of investing books and optional training is designed to explore the foundational spread trading strategies, then lead investors through them one at a time. This will help all levels of investors discover new trading strategies and different ways to approach the financial markets.
Most investors and traders would agree that no matter what stock is chosen, it will ultimately go up in price, down in price, or stay the same. How an investor chooses to enter his trading positions around the chosen stock, says Slagle, ultimately makes all the difference in the world.
Smart investors and traders embrace education. Slagle believes that after 25 years in the business, teaching over 1,000 training classes to over a quarter million investors, he brings a specific level of knowledge, experience, and compassion to the options education marketplace.
In the first installment of the series, How to Trade Stocks Using Options, Slagle will explore the following topics:
1. More Options Equals More Wealth 2. The Foundational Strategies 3. The Collar Spread 4. The Bull Call and Bull Put Spreads 5. The Bear Put and Bear Call Spreads 6. The Call and Put Calendar Spreads 7. The Butterfly and Condor Spreads 8. The Call and Put Ratio Backspreads
Each subsequent book in the series will explore each spread trading strategy on their own.
"How to Trade Stocks Using Options" is available at
http://DartThrowTrading.com/options-trading-books
DartThrowTrading.com wants to help educate investors with specific strategies they can use to not only take advantage of the best stocks for 2015, but also protect their money from the next potential stock market crash.
About Jimmy Slagle and DartThrowTrading.com
Spread Trading Coach, Mentor, and Expert, Jimmy Slagle, has helped thousands of investors learn to Throw Darts – Pick Stocks – Make Money using very simple and profitable strategies to trade the markets. His trading ideas have been the subject of numerous online stock trading newsletters, books, articles, and webinars, and he is in constant demand to teach and speak at live trading workshops, boot-camps, and seminars across the country. Get more information on Jimmy Slagle and Dart-Throw Trading at DartThrowTrading.com.
Release ID: 82672