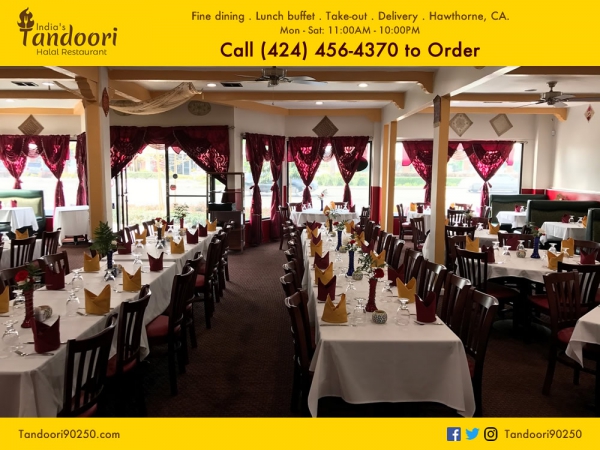 - February 23, 2017 /PressCable/ —
United States – February 21 2017: The City of Hawthorne, California will soon be home to a new restaurant, India's Tandoori Halal Restaurant.
Alex Vargas, the Mayor of Hawthorne, will be in attendance for the grand opening of the latest Hawthorne restaurant, which is slated for February 24 2017 from 4:00PM to 8:00PM. The restaurant is located in the heart of the city at 12866 Hawthorne Blvd. CA 90250.
The team behind this new local tandoori Indian restaurant look forward to providing the community with an exceptional upscale casual dining experience that will consistently exceed their expectations. They will also provide food delivery in Hawthorne, CA.
"We are thrilled to be opening our restaurant in Hawthorne." said a representative from India's Tandoori Halal Restaurant, Hawthorne, CA . "We chose this location because of the highly dynamic and diverse neighborhood. This area is comprised of families and residents who desire simple and delicious food, paired with extraordinary service. We are very much looking forward to serving our new guests."
Home to SpaceX and Century Media Records, Hawthorne, California is a fast growing city in Southwestern Los Angeles. It is home to a number of fine dining establishments and will proudly become the location of a new local tandoori Indian Restaurant.
India's Tandoori Halal Restaurant will focus on showcasing modern Indian cuisine. The menu will include authentic dishes such as Chicken Tikka Masala, Saag Paneer, Lamb Curry and Tandoori Chicken. Although the food is steeped in tradition, this Hawthorne restaurant plans on keeping a west coast atmosphere and all will be presented in an approachable and informal setting.
The goal behind this local tandoor Indian restaurant will be to combine local California ingredients with the traditional techniques of India. The restaurant will offer dine-in, catering, take out and delivery in Hawthorne. They will also offer a lunch buffet from Monday through Friday and a Champagne Brunch on Saturdays.
India's Tandoori Halal Restaurant will soon become a restaurant staple in the city. To find out more information and current updates, visit their website and social media pages listed below or attend the grand opening with Mayor Alex Vargas on February 24 2017 at 12866 Hawthorne Blvd in downtown Hawthorne.
Release ID: 172172