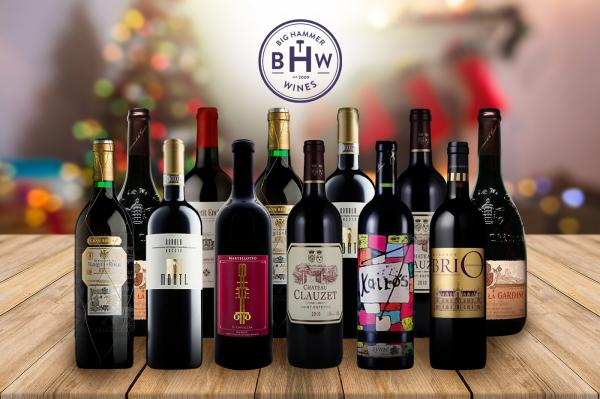 - November 20, 2020 /PressCable/ —
For those who don't know what to get the wine lovers on their shopping list, Big Hammer Wines created a new and different holiday gift guide for wine lovers to savor during the COVID-19 holiday season.
Only BHW can give shoppers a gift this unique: an instant collection of rare wines to fill their cellars at incredible Black Friday special discounted prices.
BHW has long been well-known for delivering outstanding wine at the most competitive prices. With the BHW "Instant Wine Cellar", wine lovers can enjoy their own wine cellar experience during the holidays, even if they don't have a cellar.
For more details, visit bighammerwines.com.
"Because this year has been so challenging, we wanted wine lovers to give themselves and their loved ones a more enriching experience during the holidays," said Greg Martellotto, owner of Big Hammer Wines. "We thought the idea of an instant wine cellar would encourage wine shoppers to try great wine they normally wouldn't try. Most wine drinkers don't have wine cellars, but it doesn't mean they can't drink like they do."
The Instant Wine Cellar makes an excellent gift for both serious wine connoisseurs and novices alike. With easy online shopping and direct delivery, customers don't have to lug home bottles of mediocre wine from the grocery or big box store.
These cellar quality wines from the most sought-after regions of the world are perfectly aged, so wine drinkers can enjoy them now.
Wine cellar owners can buy two cases, one to drink now and one to age. Because these are such high-quality wines from the best producers and regions, they will continue to age well for a few more years.
The offer consists of 12 bottles (a full case of the wines listed below) delivered to the customer's doorstep free of shipping charges.
Discounts on the wines range from 29% to 60% off the already low prices. Shoppers can also buy individual bottles or mix and match (free shipping on 12 bottles.)
1. 2000 Marques de Riscal Gran Reserva – top Spanish producer in high-demand
2. 2001 Marques de Riscal Gran Reserva
3. 2003 Château de la Gardine Cuvée Génération Châteauneuf du Pape Rouge – organic, drinking perfectly now
4. 2004 Château de la Gardine Cuvée Génération Châteauneuf du Pape Rouge
5. 2000 Monti Bussia Barolo – one of the best of Barolo
6. 2003 Monti Bussia Barolo
7. 2004 Zyme Kairos Veneto Rosso IGP – the second label of famed Harlequin
8. 2009 Le Petit L'Enclos Pomerol – top Right Bank Bordeaux appellation
9. 2010 Château Clauzet Saint-Estèphe Cru Bourgeois (2 bottles) – Left Bank Bordeaux drinking well now
10. 2014 Martellotto Riserva "Il Capoccia" Happy Canyon of Santa Barbara – award-winning Bordeaux-blend
11. Brio de Cantenac Brown Margaux – one of Bordeaux's finest Right Bank appellations
Wine lovers can make this holiday season memorable not for the struggles and strife of the year past, but for sharing the love of family and friends. With the BHW Instant Wine Cellar, intimate holiday dinners and gatherings will be fondly remembered.
Big Hammer Wines encourages wine drinkers to explore the joys of aged wines with the Instant Wine Cellar gift offer.
With limited quantities, these highly in-demand wines will sell out quickly.
ABOUT Big Hammer Wines
Since its launch in 2009, Big Hammer Wines has been committed to sourcing wines of exceptional quality and value at every price point, from the U.S. and around the world.
With an impressive direct-to-consumer (DTC) sales model, Big Hammer uses technology to integrate and improve the wine distribution channel, resulting in more favorable pricing.
Inc. Magazine has recognized Big Hammer Wines as one of the fastest-growing companies in the U.S.
Release ID: 88986482