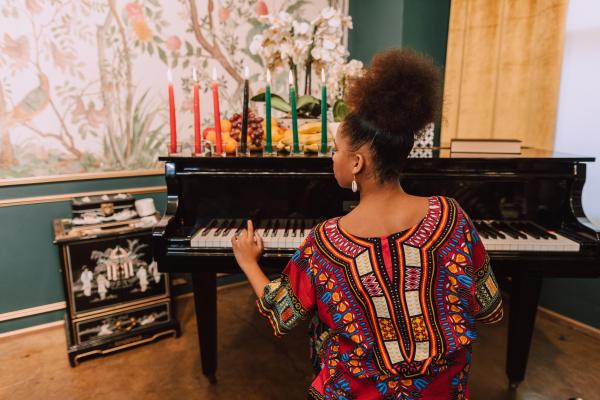 - April 18, 2021 /NewsNetwork/ —
Jerald Simon, founder and owner of Music Motivation® has released his 'Essential Piano Exercises' course to give people an affordable option to learn to play piano using online piano lessons at home no matter where they are in the world.
Through a combination of video lessons and weekly Facebook Live sessions hosted by Jerald Simon, adults and teens now have another path to learning piano.
More information is available at http://www.playthe88.com
Unlike many online courses which just teach the basics of reading and playing music, students will learn more than just music theory, such as playing all scales and chords, they will also learn how to apply the concepts to their own music as they learn blues, jazz, improv, and composition. Playing from Fake Books and creating arrangements are also covered in this comprehensive course.
Throughout the course, the emphasis is on having fun while learning. As course creator Jerald Simon puts it:
"I often refer to it as piano FUNdamentals (emphasis on the word FUN). It is the practical application of music theory. I will show you how to apply the music theory you learn to create music of your own by improvising, arranging, and composing music in any style you want."
Once each week Jerald is in the private Facebook group for the course teaching live. A master teacher with years of experience, Jerald invites students to suggest what they would like to see him cover in each weekly session.
Students can also participate by asking questions during the live sessions or by sending in questions before or after the session. Recordings of the live sessions are added to the course content for those unable to participate on Facebook. Students can also post videos of their playing in the group turning what can be a solitary pursuit into a community endeavor.
In addition to the videos which include overhead views of Jerald playing the piano as he teaches, PDFs of all course material are included in the course materials and new content is updated and added regularly. More detailed information about the course can be found here: https://www.essentialpianoexercises.com/free-monthly-giveaway?affiliate_id=2629546
Playing piano can be both a rewarding and entertaining activity for people of any age. It also has the potential to help combat depression, anxiety and stress as well as boost creativity and strengthen self-esteem.
In spite of the benefits, affordability of lessons is often an issue and finding an online course that covers all essential topics while being fun and engaging can be challenging. Music Motivation® aims to solve this challenge with its 'Essential Piano Exercises' course. There is something for everyone in this course, whether a total beginner or more experienced player.
Those interested in learning more about this comprehensive course can visit the links above for additional information.
Release ID: 89005819