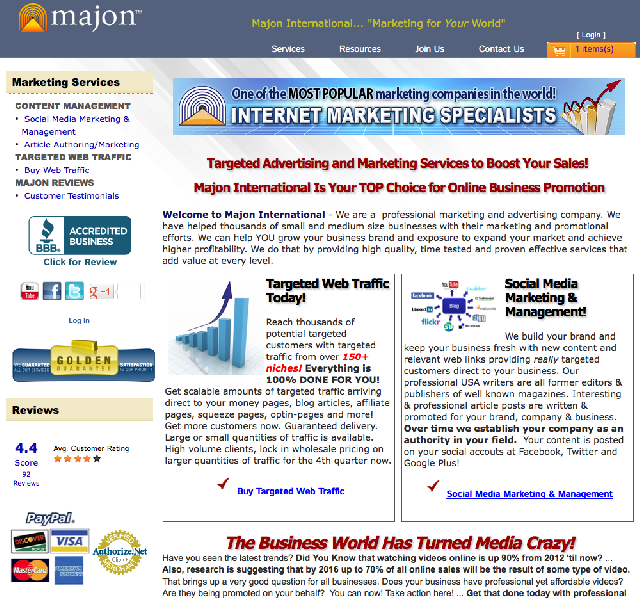 - November 27, 2014 /PressCable/ —
Arroyo Grande, CA November 27, 2014 – As businesses prepare to head into the busiest shopping season of the year, marketing managers for companies of all sizes are facing new or not so new challenges. Ever since Google turned the search engine optimization world upside down by releasing the Panda in 2009, online marketers have been navigating an ever-changing landscape of best practices and forbidden black hat SEO tactics. It is clear that what was generally accepted practice six months ago can turn around and bury major websites literally overnight when a new "Animal" update hits the Web. 
Majon International, a leader in online promotion and marketing, are giving away some trade secrets with some important content marketing and social media promotion strategies that will bring website traffic and sales to new height for the holiday season and through 2015.
User experience and content is still king in the world of online marketing. The single most important thing that marketers can do to improve their site ranking and bring in web traffic is to focus on publishing high-quality, informative and interesting content. One of the best ways to do that is to host a business blog that regularly post articles and information related to your business. The exact strategy of how this is done is makes a huge difference and is more important far beyond search engine rankings, though. Blog posts not only give businesses a way to engage with prospective customers, the set the stage for how a business is perceived in the online world. A business might use their blog to promote products, share company news and offer helpful hints and information to customers. 
But there are additional benefits to blogs and how they are handled. Incoming links are still an important part of any online marketing strategy, but businesses need to focus on building high-quality relevant backlinks. These days, Google and other search engines look at the content on the site doing the linking as well as the site being linked. A link from the wrong site can actually damage a company's ranking. Businesses can exert some control over incoming links by building and maintaining an offsite blog and linking to their main website from that blog. The caveat is that the content on that blog must be relevant to the business and be high in quality. 
 Finally, social media is playing an increasingly larger role in marketing for online and brick and mortar businesses. Twitter, Facebook, LinkedIn, Instagram, Pinterest and other social platforms increase a company's visibility and reach. By writing and producing content specifically geared to each platform, local businesses and personalities can raise brand awareness, communicate with customers and clients and maintain ongoing engagement. 
Majon International has been providing its expertise in online promotion to businesses of all types and sizes since early 1998. This holiday season and into 2015, the company's main online marketing services include blogging, content marketing and social media promotion packages especially geared to owners of small and medium size businesses who really want online success. The benefit of working with a business that understands all the ins and outs of successful content marketing is tremendous when it comes to asserting a company into higher levels of profitability. 
Release ID: 69257