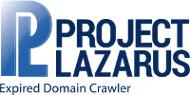 - April 6, 2020 /PressCable/ —
Project Lazarus has released the updated version of their expired domain crawler software for finding TLD domains with new MOZ Metrics and spam checking features.
More Information available at: https://lazaruscrawler.com
The updated software from Project Lazarus allows for crawling of over 150 new TLDs with unlimited crawl depth and full proxy support. The software is capable of finding over 1000 domains from a 30-minute crawl using only 3 seed sites.
The domain crawlers new features that come with the software include Majestic SEO and seoMOZ metrics. These allow customers to analyze domains found for details on SEO, backlinks and other information before a purchase of the domain is made ensuring customers are finding the right domains. Furthermore Project Lazarus includes this without the need for a paid account for either Moz or Majestic.
Project Lazarus also includes Spamsy spam checking for customers to scan a domain for spam allowing them peace of mind when purchasing a new domain. The comprehensive system allows for hundreds of domains to be checked quickly and easily. Similarly, this comes without the need for a paid Spamsy account for customers with the Project Lazarus software.
The updated release also includes functionality for finding expired Web 2.0 blogs and currently supports Blogspot, Tumblr, Live Journal, Weebly and Over-Blog.
Previous clients of Project Lazarus have said that within a really short period of time they were able to find expired domains that have a much higher value than what they had spent on the software. Also, another client said that it is one of the fastest expired domain crawlers they've used.
A spokesperson for Project Lazarus said that their promise is that they will help customers get Project Lazarus expired domain scraper set up and running correctly on a customers machine that meets the minimum system requirements, and that they want clients to be successful and to get value out of this software.
The system requirements for the software are 2 GB of RAM with 10 GB Disk Space and people wishing to learn more can visit the URL above for further information.
Release ID: 88951851