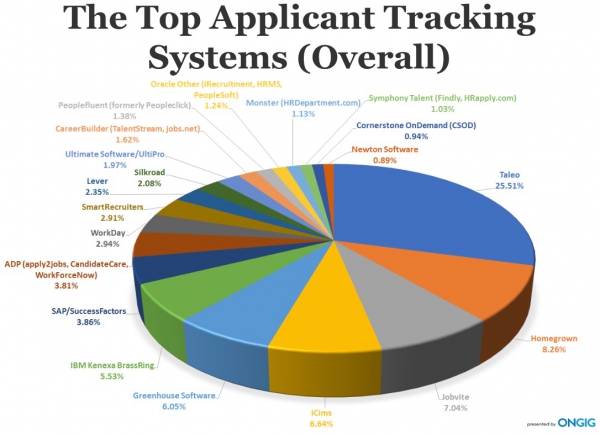 - June 13, 2017 /PressCable/ —
Oakland, CA: June 13, 2017, Ongig, the company that transforms the job description, released its free Top Applicant Tracking System Annual Report for 2017. The influential report features lists of the top ATS software companies by market share as well as those growing the fastest.
Ongig first created the Top ATS Report in 2014 and it is now the standard (80,000+ readers) for measuring the multi-billion dollar market for applicant tracking systems This year's report tracks 99 ATS systems used by 3,705 of the top U.S.-based employers that are hiring.
"There's a war for talent going on and the candidate is now in charge," said Rob Kelly, co-founder and CEO of Ongig, the innovative company transforming job descriptions.
Kelly adds that "The applicant tracking system is one of the most critical parts of the candidate experience. The head of HR or talent acquisition's decision on which ATS to use is vital because the ATS is often what generates the content and employer branding that a candidate first experiences about the employer and the job. Ongig sees it as a duty to the online recruiting industry to share the in-depth data and trends seen in the ATS market."
ATS Integration expert Elaine Davidson of Beacon Lane Consulting added:
"The Ongig team has done it again with this year's Top ATS Report." This report is chock full of data and insights into employers and which ATS systems they use. This is must-read research if you are a CHRO or head of talent acquisition."
Highlights of Ongig's Top ATS Report (2017) include:
• The top 5 ATS systems by overall market share are Taleo (25.51%; Jobvite (7.04%); iCims (6.64%; Greenhouse Software (6.05% and IBM Kenexa Brassring (5.53%)
• Greenhouse Software (with 22.27% market share) is the top ATS for employers with 10 to 24 job openings
• SmartRecruiters (22.0%) is the top ATS in market share for employers with fewer than 10 current job openings
• 8.26% of employers (including giant employers like Apple, Facebook and GEICO) still use a homegrown ATS system that they have built themselves
• The fastest growing ATS systems by gain in market share points are Greenhouse (4.4% gain); SmartRecruiters (2.7%); Workday (2.5%); Lever (1.9%); and Cornerstone OnDemand (.8%)
• The fastest growing ATS's by % gain in # of clients are Workday (626.7%), Cornerstone OnDemand (483.3%) Lever (480%), Greenhouse (307.3%) and RecruiterBox
• The "New ATS Stars on the Rise" (those who did not rank last year but have multiple clients this year) include BreezyHR, Prevue (APS), Gr8People, ExactHire, Google Hire; BambooHR, PageUp People, PeopleMatter, CareerPlug, Hirelocker, Hiretouch and Recruitee
• The most common ATS migration scenarios were Taleo to Workday, Taleo to Successfactors, Jobvite to Greenhouse, Jobvite to Lever and Successfactors to Workday
• ATS software Trends predicted for the next 12 months include that ATS software with open APIs with gain share; the market for ATS systems for "On-Demand" workers will heat up; artificial intelligence (AI) will become a key part of ATS systems (included Google's new ATS Google for Hire)
Ongig is on a mission to help employers transform their job descriptions/ads. Ongig's three solutions include: 1) The Ongig Cloud — Ongig's mobile video recruiting platform supercharges an applicant tracking software to let employers instantly add video, pictures, chat, ratings and reviews, testimonials and more directly to any careers/job page. The Ongig Cloud includes an advanced job search, instant microsites and the world's best job descriptions; 2) Job Description Rewriting — Ongig's professional copywriting team is on standby to transform the text of job descriptions; and 3) Custom ATS Development — Ongig's custom development team helps give employers an amazing digital candidate experience whether they are merging multiple ATS systems or migrating from one ATS to another or any combination of both.
Ongig CEO Rob Kelly is available for 15 minute interviews through http://www.meetme.so/robatongig or at Rob@Ongig.com.
Release ID: 205530