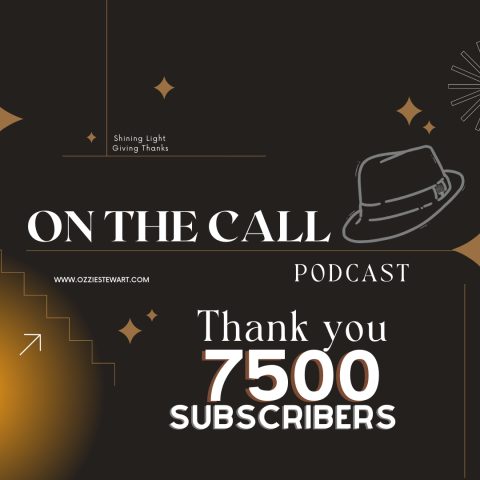 - January 18, 2022 /PressCable/ —
"On The Call Podcast" announces its 7500+ subscriber milestone for users of their Brand, On The Call Podcast Across all platforms. "On The Call Podcast" has attracted users who are interested in a brand that is fresh and unique. The uniqueness is derived from its mission of thanksgiving especially in the life we are presently experiencing.
Raising awareness and Shining light on lives that impact others is the major driving force behind the caring and sharing mission. On The Call is Ozzie's version of the Hallmark Card, through which she hopes to encourage and inspire others to replicate, given these times in which we live, where losses have become a constant. Her wish is that each chat shines a light on each life and in turn, leaves each guest, these stars among us with something for their records and family.
Ozzie Stewart, owner, and creator tell us that she is grateful that the viewership and responses have been so positive in the short two years since it began as a podcast, especially beginning in the heart of the pandemic, but began as a video series in 2019 and she looks for to another banner year, 2022, of building her audience while sticking to the simple mission of voicing gratefulness, as well as gaining collaborators.
This podcast serves as an extension of Ozzie's creativity, which began in her youth as a dancer and then continued into musical theater, which then progressed to having her own business where her creativity was shown in merchandising in the garment industry from there she moved on to the acting and modeling arena to finally the podcast, giving back saying thanks as quickly as she can before it's too late, "prompted by our present existence".
People looking for a new Brand are encouraged to take a look at the On The Call Podcast Across all platforms website at https://www.ozziestewart.com.
Release ID: 89060349