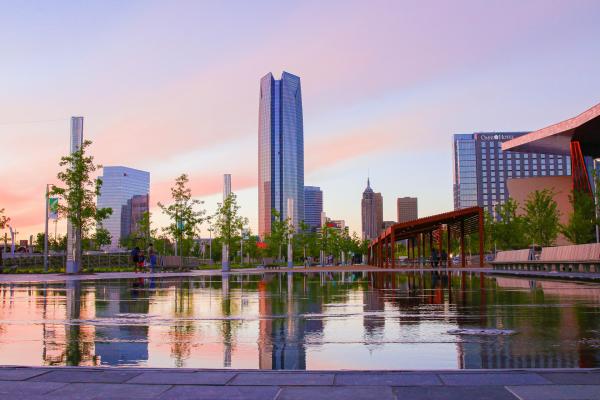 - September 23, 2021 /PressCable/ —
Just as temperatures are starting to cool off after a hot summer in Oklahoma, Oklahoma's home real estate market is cooling off as well.
Now, individuals desiring to buy homes in central Oklahoma can do so with less competition, and those wanting to sell to upgrade to a higher value home will find more success compared to the summer, according to Ruthie Gallardo-Owens, founder of Edmond, Oklahoma based-Oklahoma Real Estate Experts, in a video released this week.
She said with the current market, the demand for Oklahoma housing has slowed down, thanks largely to the beginning of the school year.
"For a lot of people, school starting was just a point for them to slow down and stay in their current home. If they didn't find a house during the summer, they're going to sign another lease or keep their home for another six to 12 months, which leaves us with a little bit of a balanced inventory — meaning that if you're still in the market, now you have one less competitor," explained Gallardo-Owens.
She further added for those wanting to sell, now is the time as well.
"Of course, if you're looking to sell, it's still a great time to put your property on the market because you'll be able to find your next house a little bit quicker, just like you'll be able to compete for the next house as well — something that you could not do during the summer."
Gallardo-Owens said last summer's home real estate market in Oklahoma was a "complete craze," home buyers not able to find homes and sellers receiving as many as 85 offers for their properties.
"It was just an unprecedented summer," she said.
She attributed the season's hot residential real estate market to high demand and low supply.
The high demand in Oklahoma, she said, was due to a number of factors, all linked to the COVID-19 pandemic. Among those factors were low interest rates to prop up the languishing economy during COVID-19, greater home space needs due to the increase of remote working during the pandemic and the large influx of cash-rich out-of-state buyers fleeing the economic impacts of COVID restrictions is stricter cities and states.
"With COVID and the economy, everything was really set up to help people be able to afford a home — all to keep the economy going," said Gallardo-Owens, speaking of the unusually low interest rates for home mortgages. "That was wonderful for a lot of people that were on the fence about buying because now they could purchase a house for a lot less interest. People became more interested in buying."
Speaking of the large inflow of out-of-state buyers, she said purchasers came from places like California and Las Vegas where COVID restrictions were stringent.
"That meant that a lot of business owners could no longer operate their businesses and it just became a dire situation where they either had to move or they had to lose their means of maintaining an income," she said.
As an example, she explained how her firm, Oklahoma Real Estate Experts, worked with several restaurant owners who moved to Oklahoma City because they just could no longer sustain their businesses at their former locations where everything was closed due to COVID.
As real estate was more expensive where they formerly lived, they came to Oklahoma to find much more value for the money gained from their recently sold homes.
"They come here after selling their house — a three-bedroom, two-bath, 2,000-square-foot home — for almost a million dollars just to come here and buy the same exact square footage for $250,000 or $300,000. Those people came into the market and they helped the frenzy that we had."
Gallardo-Owens said complicating the Oklahoma real estate market was the low inventory of homes in the area, causing prices to skyrocket.
While she attributed some of this to local concern over the economy and people wanting to play it safe in unsure times, much of it was due to the fact those wanting to sell found either too much competition in finding their next home or little increase in value with the higher ticket prices.
"Then there was that building materials were a lot higher. So a lot of people who thought, 'Well, maybe I can sell my house and buy a new build,' decided to wait as well until building material stabilized," she said.
In other situations, she said, buyers with loans would successfully win bidding wars, only to find the house wouldn't appraise, causing many properties to go off the market just to come right back on.
"This was just something that caused a lot of stress," said Gallardo-Owens. "We were very lucky to be able to get a lot of buyers in homes, but not all of them were as lucky. Some of them said, 'You know what? I can't handle the stress.' So they decided to wait a little bit."
"There were a lot of factors."
Those wanting to watch the video can click here (Video: Oklahoma Summer 2021 Home Real Estate Update) and subscribe to receive new news as it appears. Those wanting to know more about Oklahoma Real Estate Experts can go to the website at https://oklahomarealestateexperts.com .
Release ID: 89046549