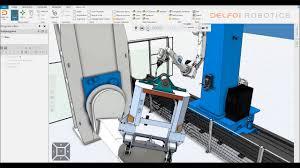 - April 14, 2020 /PressCable/ —
Mach Machines, a Cincinnati OH based supplier of robot welding programming software, has announced Philip Cook has joined the company in North Carolina and is responsible for marketing the Delfoi Robotic Offline Programming software.
To view the full range of services, visit:
The company is pleased to welcome Mr. Cook to the team. Philip has a range of specialist knowledge that will enable him to be successful in the role. It will also help the business to focus on its strategic goals including sustainable growth.
Mach Machines is the US distributor of Delfoi Robotics, a leading provider of a range of offline programming solutions to ensure the robotic automation process is set up quickly and effectively. A range of solutions are available via Mach Machines.
This includes Delfoi ARC 4.0, which is a feature-based, offline programming software tool for welding robots, which features a modern user-friendly interface. Based on selected parameters, the sophisticated software can effectively utilize the features of 3D CAD models and the internal Welding Procedure Specification (WPS).
Other features of Delfoi ARC 4.0 include 'straight weld' wizard, 'curved weld' wizard, stitch welding, automated end flare angles and robot configuration management. The program contains extensive support for companies that need to import CAD data in different formats.
Delfoi Planner is a form of Advanced Planning and Scheduling (APS) software that uniquely features manufacturing execution (MES) and capacity forecasting (SOP) capability. The program is offered in two formats, web or cloud based.
It is ideally suited to discrete and project type manufacturing operations. Advantages of Delfoi Planning include the fact it shortens lead times by 50%, improves delivery accuracy, requires less inventory and enables faster delivery times.
Utilizing offline programming software significantly lowers manual programming times. In some instances, it has lowered the programming time by 90% when compared to manual teaching modes of robotic welding programming.
A company spokesperson commented, "We're delighted to welcome Philip Cook to the team. He has a great deal of manufacturing, automation and robotics expertise, which is great for us as a team. Being the US distributor for Delfoi is a huge privilege for us and not something we take lightly."
They continued, "As Mach Machines continues to go from strength to strength, we're looking forward to the future, to continued growth and supplying our clients with practical, efficient and cost-effective automation robotic software solutions."
To find out more about the automation solutions provided by Mach Machines, please visit the website link provided.
Release ID: 88953459