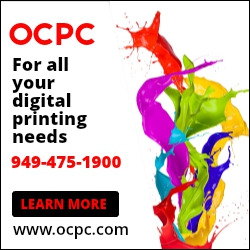 - October 25, 2017 /PressCable/ —
Digital printing in Irvine, CA – OCPC, a full-service RR Donnelley commercial print facility based out of Irvine, California continues to outperform the competition by offering incomparable high quality commercial and digital printing services.
"Our clients expect only the best from OCPC printing company and we have delivered it consistently for more than a quarter-century. We take pride in the quality, accuracy and timeliness of every project we produce. Personal service combined with support from a global leader of the printing industry, creates the kind of customer experience you simply cannot find anywhere else."
"Digital printing is a cornerstone requirement for almost every business today as the world moves closer and closer to total digital and technological systems," said Miguel Jacobowitz, President of OCPC. "We take our services seriously here, ensuring every business is able to realize digital printing they need to be successful in marketing, advertising and client relations."
– Miguel Jacobowitz, President OCPC
OCPC has made a major investment in digital printing equipment and support services. Their international network of state-of-the-art digital presses are the largest in the world and provide an unparalleled capability to offer clients the highest quality print on demand anywhere in the nation.
When choosing OCPC, clients have access to the resources of RR Donnelley, the largest commercial printing company in the world. Rich history, a lasting legacy, innovative technology and a focus on integrity, every level of RR Donnelley is devoted to quality. RR Donnelley has been a leader in the print industry for over a century by helping companies develop and execute multi-channel communication strategies that engage audiences, reduce costs and drive revenues. In fact, RR Donnelley currently services all the Fortune 500 companies in the U.S.
OCPC is located at 2485 Da Vinci, Irvine CA 92614
For more information about digital printing, visit http://ocpc.com
Release ID: 254692