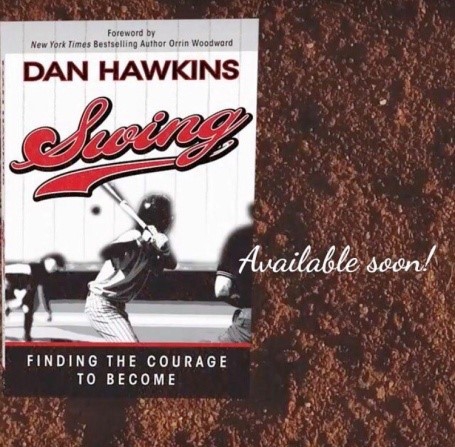 - April 4, 2017 /PressCable/ —
"Dan Hawkins has lived a very interesting story. Fortunately for the rest of us, he has also written a great book about it! Dan's life and the lessons he shares from it are humorous and touching at the same time. Rare will be the person who is not moved forward by this book!" —Chris Brady, New York Times Best-selling Author
Life is proud to have a line-up of six published authors within the company's Founding body: Orrin Woodward, Chris Brady, Terri Brady, Claude Hamilton, George Guzzardo, and the most recent being Dan Hawkins!
Obstacles Press is excited to announce Dan Hawkins' upcoming book release, Swing, that will be available for purchase at Life's Weekend of Entrepreneurs convention April 21st – 23rd, 2017.
Here is a sneak peak of the Forward by Best-selling author and Life Founder, Orrin Woodward:
Dan Hawkins is a modern day David over Goliath success story. Without funding, connections, or any previous entrepreneurial experiences, and despite dealing with massive fears that practically paralyzed him, Dan and his lovely wife Lisa did what others said was impossible, namely, escaping the Financial Matrix and living their dreams with their five daughters—without 9-5 jobs. Dan and Lisa applied the financial principles that are taught in the Financial Fitness Program to turn their visions into reality and today live on a picturesque property with a custom-built mansion, attached horse-farm, and numerous recreational vehicles. How many former mechanics (Dan) and day-care providers (Lisa) live like this? The material blessings, however, are merely the frosting on the success cake. In reality, the real value of the dream is who one becomes on the journey to success. Learning how to do this is the purpose of Swing.
Indeed, I know of no one who has overcome more fears to achieve his dreams than Dan Hawkins. Whereas Dan's limiting beliefs held him hostage to past failures, buried within this seemingly quiet, shy, and introverted mechanic was a fire that continued to burn. This fire eventually burned away his fears and revealed the champion within. To be sure, at the beginning Dan failed repeatedly in his efforts to conquer his Goliath-like struggles, but when a man knows why he is doing something he can endure almost anything.
Dan, similar to David of old, knew Goliath must fall in order for him to fulfill his destiny. Thus, he simply grabbed another stone, faced his nemesis and fought until the giant fell. Dan is living proof that actions conquer fears, actions that anyone can do, but sadly few follow through. Dan realized that dreams are a more powerful emotion than fear, and that when dreams are fed to the subconscious mind more than fears, the fears will fall. This is the story of Dan Hawkins, a story of dreams, struggles, and ultimately victory, all because a man refused to let his fears steal his dream.
In the following chapters, the reader will learn how to overcome fears and roadblocks by enabling the courage within. However, beyond mere information, this book provides the inspiration to act! It is said that knowledge is power, but in reality, only knowledge applied is power. The reason Dan's story is so inspiring is that he used his dreams as inspiration to apply the information he learned. Moreover, he didn't just stop at his own success; he also shared the powerful principles in this book to bless others who are seeking their own success in life.
Above all, this book displays courage because, rather than strike perfect poses of success for the readers, he instead reveals his biggest challenges and fears. Dan, in short, cares more about the reader's success than his reputation. After all, truly successful people seek to make a difference in others, not a name for themselves.
This, in my opinion, is what makes this book special, for Dan reveals how a person can overcome improper programming through purposeful dreams, powerful courage, and passionate actions. His life models the book's keys to courage (believing, dreaming, listening, and acting) until victory is assured. Dan and Lisa are not only life-long friends and business partners, but also people who inspire my wife Laurie and I to continue growing. I want to personally thank Dan for leading with character, courage, and conviction. His light shines into the darkness and has helped thousands of others see more clearly the path to financial freedom. —Orrin Woodward, Inc. Magazine Top 20 Leader, Top 100 Speaker, and New York Times Bestselling Author
Release ID: 182876