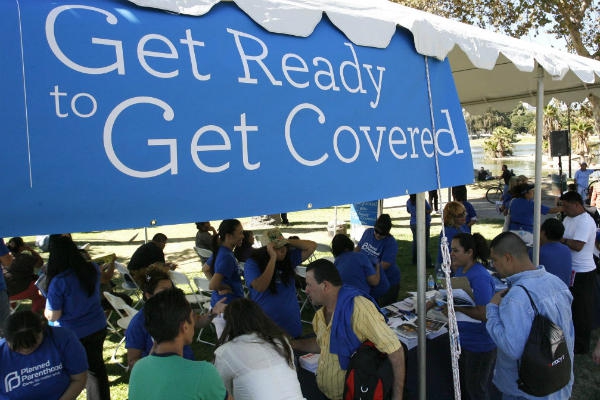 - January 22, 2016 /PressCable/ —
Hola Obamacare's Enrollment Centers are enrolling people fast and in big numbers with the new system and software they're using to enroll. Mass amounts of people have piled through the doors of Hola Obamacare's Enrollment centers in South Florida and found themselves getting in and out with their plans for next year in just 5-10 minutes with the ACA enrollment platform. Quick and easy is the way it is done at their Enrollment Centers located throughout Dade, Broward, and Palm Beach County Florida. One customer quoting "Way better than last year" when he enrolled at the Mall of the Americas in Miami. At the Mall of The Americas, people enrolling for 2015 coverage waited up to 10 hours to speak with an agent, and some were even unsatisfied with the plans that were offered and left uninsured. At Hola Obamacare, even if there are long lines, the new ACA software will have customers in and out within 5-10 minutes. Hola Obamacare has over a thousand State-Licensed Professional agents spread in 15 different locations within the 3 counties. The Hola Obamacare motto is quality combined with efficiency.
All of the agents are Certified by CMS and licensed by the state of Florida. Hello Obamacare Agents are also bilingual. Spanish – speaking customers can visit these locations in comfort , knowing that there are at least 120 bilingual agents who can help them through their enrollment of Obamacare for 2016. Find out how to get the best plans with Hello Obamacare Locations in Florida right here.
One thing many people don't know is that there's actually three ways to apply for Obamacare health insurance in the marketplace. There's private exchange, or The Health Insurance Marketplace (the government facilitated websites). Here are a list of pros and cons for both. Here are the positives when it comes to the Private Exchanges such as ezHealthMart's website. First: consumers can buy health insurance from licensed agents, online and in person (there are many times, especially when the consumer is self employed, a legal resident, changing jobs, where they must upload multiple documents which is much better when a consumer may go to an enrollment center such as ezHealthMart's Enrollment Center's Page and have an agent do it for them). The third option is directly from insurance companies (in this case the insurance carrier will only offer their product's which might not be best for the consumer. Second, private enrollment centers are typically staffed with state licensed health insurance agents. There are more options when shopping for plans through a licensed agent. Examples are Major Medical Plans (Under the ACA, consumers who do not qualify for or want a subsidy, but who want to avoid the tax penalty, can buy major medical health plans that meet ACA coverage standards on or off of government-run state exchanges). The off exchange plans may be lower in cost and have a better network.The rest of the info on this matter may be found by clicking here on Obamacare Miami ezHealthMart website for How To Sign Up For Obamacare correctly.
Release ID: 101607