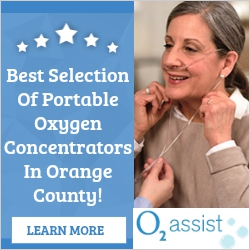 - December 19, 2017 /PressCable/ —
O2 Assist helps COPD patients find the best compatible home oxygen equipment and portable oxygen concentrators from top brands at highly affordable rates.
COPD patients looking for ideal portable oxygen concentrator equipment need not look further. O2 Assist has emerged as the favorite Personal Oxygen Resource guide for patients with oxygen needs. The Lake Forest-based company helps patients with tailor-made home oxygen equipment and portable oxygen concentrators at the most competitive prices in the market.
"O2 Assist's commitment to service excellence has made the process of finding the right machine for me better than I could have imagined. As a result, I'm able to preserve my independence and activity while on oxygen", reads one happy testimonial from O2 website.
"Our thanks to the TEAM at O2 Assist for the exemplary manner in which they helped us select and then provided a portable oxygen concentrator that met my wife's pulmonary needs and matched our life style", noted another elated customer.
O2 Assist is not your regular oxygen equipment supplier. Unlike similar suppliers, the company takes great care to come up with most customized oxygen equipment as per the COPD patient's particular needs.
"We are not just oxygen concentrator supplier. We are 'Clinical Consultants'. The moment you come to us, we assign to you your own Personal Oxygen Specialist. Your dedicated specialist will patiently listen to all your oxygen needs and based on your inputs will devise a tailor-made solution for your unique situation. Whether you are looking for a home oxygen concentrator or a portable oxygen concentrator, your personal oxygen specialist will help you with everything and in a way that fits you the best", stated Andrew Kardish, the CEO of O2 Assist.
The dedicated Personal Oxygen Specialist from the O2 Assist will be by the patient's side throughout his or her journey. Customers can contact their personal specialists whenever they face an issue with their oxygen equipment or have any queries about the machines.
"Your Personal Oxygen Specialist from our team will be your First Point of Contact whenever you have a query about our machines or service. S/he will extend the First Line Technical Support and take care to troubleshoot any issue you might have regarding our portable concentrators or home equipment. This way, you don't have to waste time in searching for people who can help you with the technicalities of your oxygen machine. We are aimed to ensure smooth oxygen dependence for our customers so that they can move forward with confidence, despite their COPD challenges. "
O2 Assist is bustling with a vast and versatile line-up of portable oxygen concentrators and home oxygen equipment. The company stocks equipment from all the leading brands like Philips, Inogen, Caire, Airsep, Resmed, Sequal and others.
The TEAM at o2assist.com pride themselves on state-of-the-art inventory including the latest models in the market to ensure the most advanced oxygen support for patients.
"Our models sport the newest technology in the market and we are dedicated to help you with the most advanced care possible. We source our products from the best brands to assure the most premium oxygen support for our users. Moreover, we host a versatile line-up of oxygen equipment which helps us to find out the best compatible machine for every need. Whether you want the lightest continuous flow or a powerful combo of both continuous flow and pulse-dose settings or an ultralight portable oxygen concentrator- we can help you with everything."
O2 Assist is confident of its competitive pricing and is ready to offer Price Match Guarantee. The company also offers no money down financing options with special discounts for Veterans.
To know more about O2 Assist, please visit https://o2assist.com.
Release ID: 279696