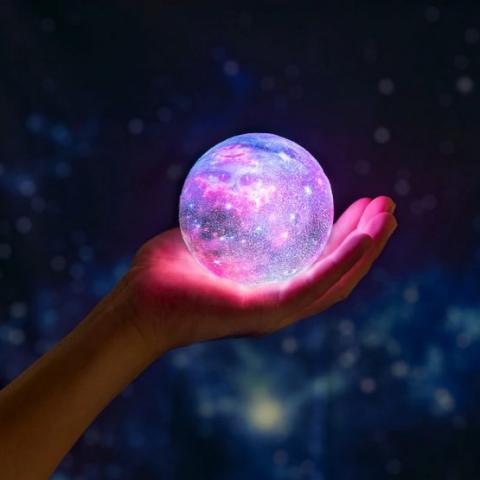 - June 4, 2020 /PressCable/ —
O Boutique today announced the development of a new lighting product designed using high-quality NASA satellite images. With the growing market interest in human-centric lighting, the question about the naturalness of light source spectra is becoming a frequently asked question. We are introducing the Galaxy Lamp, a new way of adding colour to your room.
Throughout evolution, the human visual system has evolved under the natural light of sun and fire. These light sources have standardized industry spectral power definitions that describe the state of natural light. The new galaxy lamp is a new innovation designed using high-quality NASA satellite images.
The opportunity to have a magnificent experience from the comfort of your room is here. The Galaxy Lamp design resembles the mirror image of a star in the sky at night and thus steals the show with its glorious glistening at any moment.
There is much good news coming with our new Galaxy Lamp. The Galaxy Lamp has a battery that is rechargeable that takes one-hour charging time and it lasts for 10 hours of usage. It is also portable because of this feature. You can use it while plugged in or when you are on the move or places without electricity.
The lamp emits up to 16 different colours which can be adjusted to fit your mood. The colour and brightness can be controlled remotely from the palm of your hand. It makes your home lively and kills the boredom.
The galaxy lamp emits little or no heat thus making it environmentally safe and kids and pets friendly. We are all concerned about keeping our environment free from pollutants of any kind.
In addition, the Galaxy lamp is a perfect gift for anyone. Are you in a dilemma on what to gift your loved ones for their special day? So, when you think about your loved ones think about this lamp. It can be gifted to persons of any gender and age. It is a perfect gift for any occasion, for instance, birthdays, wedding anniversary or even any celebratory event.
With the galaxy lamp emitting 16 colours, it can be adjusted to fit any room in your house from bright colours in the living room to your preferred colour in the bedroom. It also fits any occasion ranging from dull moods to parties.
The mechanism behind the colour change is soothing. Since it can switch colours, you can pair it with your favourite genre of music and have the best time that you so deserve.
You can find more about the 3D print star moon lamp at https://www.o-boutique.com/collections/home-decor-kitchen/products/new-arrival-3d-print-star-moon-lamp The website contains information on how to contact the company and also can review the product or view past reviews of persons who purchased the same product. It is easy to use and is user-friendly. There are no complex procedures for logging in or ordering the product. The website offers its services 24 hours a day all days of the week. Upon ordering, our product would be shipped to your location free of charge. With the introduction of this new Galaxy Lamp into the market, we look forward to meeting the expectations of our customers worldwide.
The galaxy lamps are available in our stores and online sites in different sizes and can be shipped to our customers worldwide. Its retail price goes for $16.00 only.
Release ID: 88960359