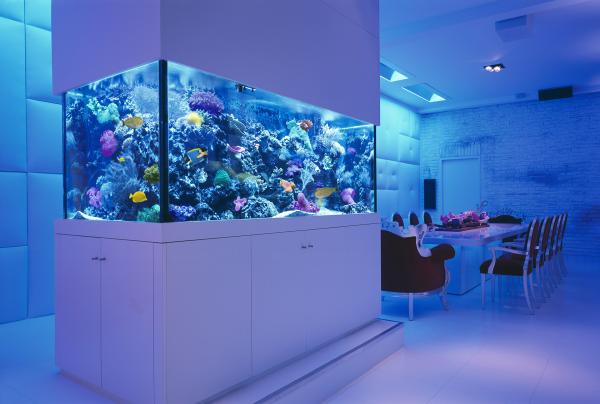 - September 11, 2019 /PressCable/ —
Okeanos Group launched its updated portfolio of fish tank design options for residential and commercial customers worldwide. The company is known for its high quality and elegant custom aquarium and fish tank designs in New York, with tropical fish for luxury homes and offices.
More information can be found at: http://okeanosgroup.com
The newly launched fish tank and aquarium design services include custom aquariums, koi ponds, water features, and more. The company delivers high quality living spaces and aquascaping with boutique aquarium design and pond creation.
The newly updated portfolio of services fuses vibrant nature with the dynamism of modern design to provide clients with the widest range of fish tanks available.
From bespoke salt and freshwater custom aquariums through to indoor or outdoor koi ponds and waterfalls, Okeanos Group works hard to provide customers with the right solutions to fit their needs.
With its new portfolio update, Okeanos designs and installs custom aquariums, Japanese koi ponds, and water features for private and commercial clients. Previous jobs have included museum installations and healthcare facility installations across the world.
Okeanos has installed aquariums worldwide, from Dubai, Paris and London to Berlin, Australia and Nigeria. The team has developed a reputation for excellent service, and the portfolio update is part of the company's commitment to excellent fish tank solutions for its clients.
For families, there are a number of benefits to having a fish tank in the home. For example, it can be a learning tool for children as they watch the fish, feed them, and interact. Fish tanks can also make for complimentary decor and have therapeutic mental health effects.
Aquariums are scientifically proven to have significant health benefits, including reducing heart rate and blood pressure. This, along with their peaceful and serene nature, is part of their appeal for commercial clients around the world.
Okeanos Group states: "Permanently integrated with an interior, an aquascape is a work of living art that constantly changes and evolves. We can recreate natural aquatic ecosystems while tailoring them to the specific architectural ambience of an interior space."
Full details of the updated portfolio can be found on the URL above.
Release ID: 88917604