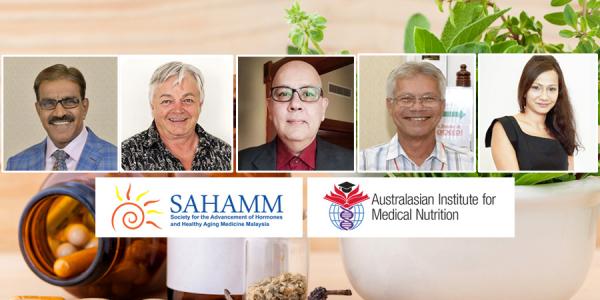 - August 28, 2018 /PressCable/ —
The importance of nutrition and maintenance of one's overall health will be the focus of SAHAMM's Nutritional Certification Advanced Course Module 3 held on September 7th to 9th. The program will provide training that experts need to become more adept at disease prevention and physical support when fighting infections.
More information can be found at http://www.sahamm.org/nutritional-certification-course/
Upon attendance, course participants will be able to interact with various medical experts. The lecturers of Module 3 will be:
1. Datuk Dr. Selvam Rengasamy, Board Certified Anti-Ageing Physician
Datuk Dr. Selvam Rengasamy is the President of the Society for Advancement of Hormones and Healthy Aging Medicine Malaysia (SAHAMM) and also Board Certified Anti-Aging Physician from American Academy of Anti-Aging & Regenerative Medicine (ABAARM) and International Hormone Society (IHS). He has been practicing medicine for the past 36 years and has been an Obstetrician and Gynaecologist for the past 28 years. The topic of his lecture will be neurotransmitters and how they are affected by foods and supplements.
2. Dr. Baljit Singh Kaulsay, MD
Dr. Baljit Singh Kaulsay is a lifetime member of SAHAMM and has attended many courses in Hormone and Nutritional therapy. He holds a certificate in Nutritional Medicine and is working towards his masters in the same area. He specialises in necessary medical treatments for various ailments based on the patient's biochemistry and DNA profile. Dr. Baljit will be sharing his knowledge on git anatomy & function, gastric dysfunction & peptic ulcer and accessory organ dysfunction & disease (pancreas/gall bladder/liver).
3. Dr. Karel Hromek BMed, BSc, FACNEM, FACRRM, FINMA
Dr. Karel graduated with a Bachelor of Science from the University of NSW in 1973, majoring in microbiology and ecology, and worked for the NSW Department of Agriculture as a research scientist on the far north coast of NSW. His fields of expertise are how to take care of the body, mind and spirit to help cure illnesses the natural way, what brings about infections that can harm the body and how to treat them organically. Dr. Karel Hromek's lectures will cover gastro-oesophageal dysfunction and injectables.
4. Dr. Ashley Berry MBBS, Grad Dip. Clin. Nutr. (UNE)
Dr. Ashley Berry graduated from UNSW in 1979. He believes that most chronic illnesses can be improved through a nutritional focus: CFS, fibromyalgia, cancer prevention and treatment, diabetes, heart disease, insulin resistance, IBS and hormonal problems. Dr. Ashley will be speaking about git microbiome, management of inflammation and pain, Alzheimer's disease update and colonic dysfunction and disease.
5. Dr. Sangeet Kaur M.B.B.S (M'glore), Dip. In Derm. (Cardiff)
Dr Sangeet was a Senior Primary Care & Anti-Ageing Physician at Global Doctors in Kuala Lumpur. With an MBBS from Kasturba Medical College, Manipal, India in 1997, Dr Sangeet specialised in Practical Dermatology with a Postgraduate Diploma from Cardiff University in Wales in 2007, Diploma in Aesthetic Medicine from AARAM in 2008, and underwent a Fellowship in Dermatologic Laser Surgery at Ramathibodu Hospital in Bangkok, Thailand in 2009. On day two of the workshop, she will speak about small intestine dysfunction & disease.
Concluding the workshop on day two, all lecturers will be available for a Q&A session.
The following certifications will be available in this program:
– The Certification and Masters Program in Nutritional Medicine
– The Nutritional Certification Advanced Program (Fellowship)
To join the program, interested parties can register here.
Release ID: 398900