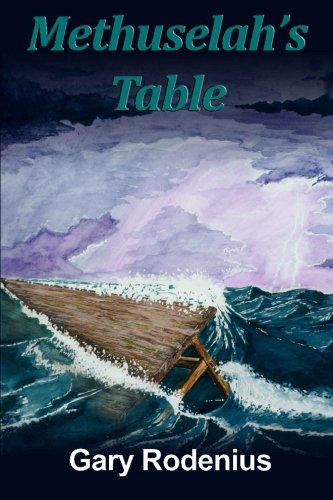 - July 14, 2016 /PressCable/ —
With all of the recent news about The Ark and its builder, Noah, there is a new found curiosity among the public about the man chosen by God to save mankind and the reasons that led God to bring a flood that would last for forty days and nights. The novel "Methuselah's Table" by Gary Rodenius depicts this era where "Every inclination of the thoughts of the human heart was only evil all the time," Rodenius quotes genesis chapter 6; and he explores what everyday life could have been like from the day God created Adam, until the day of the flood, through the stories told by Methuselah to his family at his table.
Rodenius promises a genuine good versus evil story where the few moral descendants of Adam must contend with evil at every turn and an enduring adversary whose powers are given by Satan himself. Naphal is described as a being with an insatiable desire for only the purest daughters of men, but the virtue of these women must be saved by men whose only power is their belief in a God who is forgotten by the world.
With "Methuselah's Table", Mr. Rodenius gives readers a fictional look into a history that is only briefly mentioned in the Bible. Using scripture as his reference, Gary Rodenius brings life to people who might have only been mentioned a few times in the bible and paints a story of a perfect world that turns evil starting with the first sin. "The earth was corrupt in God's sight and was full of violence," says Rodenius, "And Noah and his righteous forefathers had to battle evil spiritual forces to do God's work and to build the Ark."
Knowing that life would begin again for his family after the impending flood, Rodenius portrays Methuselah's passion that man will not repeat his evil ways in a post-flood era. So each evening at the table when their day's work at building the ark is over, the character, Methuselah, passes down the knowledge of his 969 years on Earth and the stories told to him by his forefathers, in an effort to save his family and to save the future mankind.
"I think that just about everyone, believers, and skeptics alike, are familiar with Noah's role in the story of the Ark," explains Mr. Rodenius. "In fact, Noah's name is synonymous with the Ark; but few people are as familiar with Noah's grandfather, Methuselah, who according to Genesis 5 was the only man to have walked the earth with Adam and the ten generations to Noah and his three sons."
Rodenius points to recent movies and attractions like the Ark Encounter to show that people are genuinely interested in biblical history. He hopes that his novel, "Methuselah's Table" brings readers to a better knowledge of the time leading up to the flood, and what caused God to wipe out all life on earth, yet spare one man, his family, and each animal of their kind, male and female–a time that Jesus said would similarly resemble at the end times.
"Methuselah's Table" is available for purchase from Amazon in paperback and for portable devices with Kindle digital download.
Click here to learn more. http://keystonenews.net/methuselahs-table
Release ID: 122884