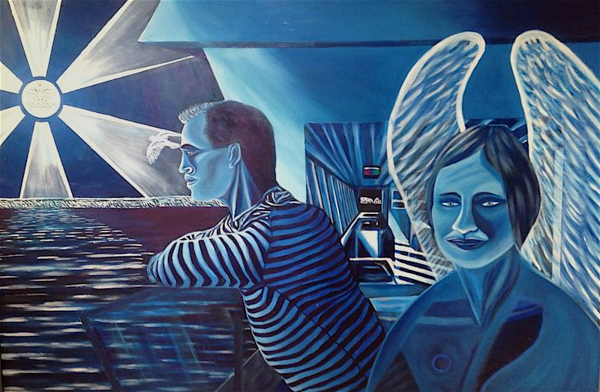 - April 12, 2018 /PressCable/ —
Nova Scotia Artist culture getting a reboot with Claude Edwin Theriault moving to the South Western Baie Ste Marie shore, of his native home. As the Nova Scotia artist gallery scene sees him move his multimedia MBF-Lifestyle East Coast; artist studio of French Acadian work to its new South western Nova Scotia location.
More information can be found at: https://malebeautyforum.com/frenchacadianculture.html
With the move comes his extensive, close to100 artworks covering a period close to 40-year, making it a truly retrospective art collection. The collection is the basis of the new online exhibition, which shows just how this impressive and diverse this privately owned Atlantic Canada Art Collection has. With it's early Maude Lewis folk art influence, then first nations inspired works to many more powerful recent shamanic inspired multi-medium artworks.On Canvas, Masonite as well as totem inspired wood carving, etchings, silkscreen, Lithographs and drawings in pen and ink, which are the preliminary sketches which show the creative process involved in what are some very complex artworks
Extensive videos of works in the making can be viewed at the close to one million viewed Youtube Channel. The channel wth it's close to one million views allow more people the chance to dive into the world of his art, and learn more about this artistic aspect of French Acadian culture.
His unique style of symbolism serves as a dynamic platform and format to narrate a scene that is on the surface as well as a parallel scene behind the visual, touching on esoteric physical/metaphysical .. A large variety of high quality artwork reproductions, are currently available for sale at his very busy Nova Scotia Artist Online Gallery, Posters, Laminate wall art and Giclee prints, so you can own a copy of the real one..
The event is set to change the way people see Nova Scotia art, and will shed new light on Nova Scotia Artist culture. the move will have his extensive collection located in Maude Lewis part of Yarmouth and Digby Co Nova Scotia where it belongs; a sort of Coming home to Maritime Canada.
Even though the local AGNS scene at 341 Main Street Yarmouth can at times be restrictive in the Nova Scotia. With Curated Arts programs in the area that are very Clique and Bureaucratic in their ways. Claude Edwin Theriault DIY entrepreneur mindset, is very confident the move will be worth the effort.
Full details of Claude and his work can be found on the URL above.Or at the new Facebook group…https://www.facebook.com/groups/MaleBeautyForumLifestyle/ Nova Scotia come join and be part of Art News trends for people in the know.
Release ID: 329311