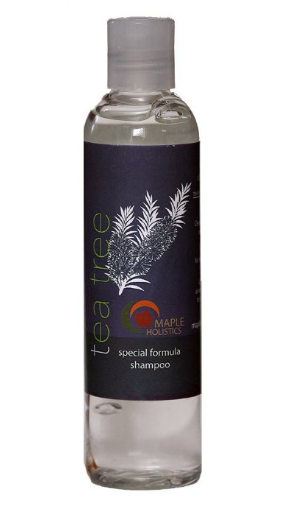 - July 21, 2016 /PressCable/ —
Finally, some good news for those folks suffering from dandruff. Maple Holistics has announced the introduction and release of their new Tea Tree Shampoo for Dandruff. Intended to solve even the most stubborn of dandruff, the new Tea Tree formula from Maple Holistics is all-natural and made with ingredients that target and eliminate dandruff sight unseen. Available for purchase now at the Maple Holistics website as well as at Amazon.com, the Tea Tree Shampoo is the latest in Maple Holistics' long line of acclaimed and successful personal care products which are intended to promote an all-natural and healthy lifestyle.
Maple Holistics Tea Tree Shampoo for Dandruff works effectively by clearing out old skin cells from hair to stimulate new hair growth. The preservative-free formula is 100% organic and contains the synergy necessary to combat dandruff and stimulate cell renewal. Intended to leave hair feeling fresh and revitalized, Maple's Tea Tree Shampoo features an impeccable formula enhanced with Argan, Jojoba and Botanical Keratin and provides an energizing scent, free of synthetic fragrances. The Tea Tree Shampoo contains only the purest and most therapeutic ingredients to promote the elimination of dandruff and the strengthening of healthy hair by taking advantage of the most potent organic chemistry nature has to offer, with Verbenone-rich Rosemary, Bulgarian Lavender, and Tea Tree with over 98 ther all-natural compounds.
Packaged in an environmental-friendly facility, the shampoo is packaged in BPA-free plastic bottles which allow for easy storage. The packaging methods for the product are held to the highest standards to ensure that the shampoo retains full freshness and flavor.
About the Company
Maple Holistics provides industry leading all-natural hair, body, skin, and food products. The company offers a natural, holistic range of premium products which can enhance hygiene, health and daily living. Company products are made in the USA.
For more information, please visit https://www.mapleholistics.com/
Release ID: 123829