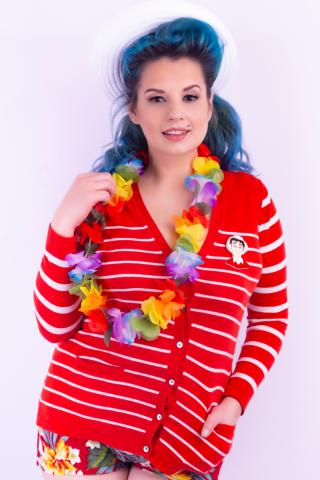 - March 17, 2020 /PressCable/ —
Fashion has always been trapped in an eternal love affair with the past – Let's face it there is something comforting about the past. Streaming old TV episodes on our state-of-the-art laptop/tablet/smartphone while we hide from the world is soothing – a modern day equivalent of leaving the embers of a fire burning gently in the background while we wind down.
Daisy Jean Floral Designs is releasing a "Nostalgia meets Pinup" collection of acrylic jewellery this coming Friday (20th March 2020) intended to bring the wearer a burst of happiness and delight as a momentary respite from the bleak, dreary state of affairs we all currently facing by letting the wearer connect with comforting memories from the past. This collection, a parody of Gilligan's Island, as designed by the amazing Mark Sheard (@sherado), uses colour and humour in a way designed to simply spark joy.
While it is common in uncertain of times for designers and customers alike to prefer to daydream and romanticise their recollections of days long past, the parody approach to this collection is definitely an interesting cocktail of novelty mixed with familiarity making the pieces full of vibrant colour, life and energy, just like the TV series.
Danielle Davenport, one of the owners of Daisy Jean Floral Designs, was quoted as saying, "There's an inherent comfort embedded in the certainty of things from our past, especially compared to the uncertainty of what is still unfolding. Nostalgia is sort of magical in that it's a form of time travel, and right now a lot of people can really use a little bit of magic."
The Gilligan's Island Parody collection is set to be launched across the internet via video at 12:00pm ADST and will be available directly from Daisy Jean Floral Designs and their network of resellers around the world. To find out more, it's possible to visit https://www.daisyjeanfloraldesigns.com
For further information about Daisy Jean Floral Designs, all this can be discovered at https://www.daisyjeanfloraldesigns.com
Release ID: 88950046