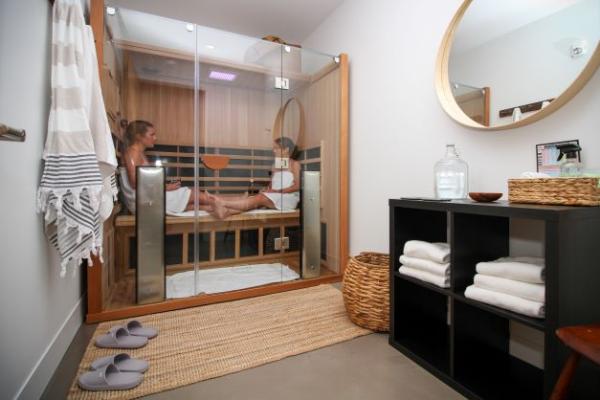 - March 7, 2022 /PressCable/ —
The newly announced treatment is known to soothe sore muscles and arthritis pain, reduce stress and promote relaxation, improve circulation and boost healing, aid detoxification, and improve skin clarity. Light therapy is also thought to affect brain chemicals linked with mood and sleep, easing depression and sleep disorders.
More information is available at https://mindfulwaters.com
The new therapy is available to residents of Northvale, New Jersey, and the surrounding areas. During the treatment, infrared light rays warm the body directly instead of heating up the surrounding air like a traditional sauna. This is more pleasurable and comfortable, as lower air temperatures allow users to stay longer while experiencing a more intense, detoxifying sweat.
Throughout the session, customers are provided with a private, clean cedar cabin sauna with temperatures ranging between 120 and 150 degrees. Depending on experience and sensitivity, sessions can last between 10 and 40 minutes.
Mindful Waters have a range of other treatments available including saltwater flotation chambers to boost mood and ease muscle pain, and cryotherapy and cold therapy using the Wim Hof method to reduce inflammation and boost the immune system.
The spa's water bar contains a state-of-the-art water filtration system to provide clients with high-antioxidant hydrogen-charged water. The clean water is re-mineralized to remove cytotoxic free radicals from the body.
A selection of LaBruna skincare products are also available to buy, including detoxing body polish, nourishing face oil, moisturizing massage oil, eye serum, and anti-aging face masks. Mindful Waters also sell the Austin Air Bedroom Machine, which cleans the air and removes airborne pollutants and pathogens from the room.
The practitioners at Mindful Waters aim to provide a welcoming sanctuary and assist people in improving their physical, mental, and emotional well-being through the maintenance of consistent healthy habits.
A satisfied customer said that "I instantly noticed an increase of energy and mental clarity after my first infrared sauna treatment. No more feeling tired! I also noticed improved mood and sense of well-being."
Interested readers can find out more about infrared sauna therapy and book treatments at https://mindfulwaters.com
Release ID: 89067026