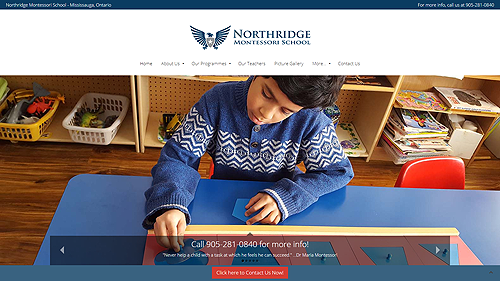 - October 23, 2017 /PressCable/ —
Mississauga, ON – October 23, 2017: Northridge Montessori School is pleased to announce that it is hosting an Open House on Saturday, October 28, 2017 and also on Saturday, November 25, 2017, between 11am and 1pm, at their school facility located at 2185 Stavebank Road, Mississauga (main intersection is Mavis Road & Queensway).
The open house will provide the opportunity for parents to meet with the teachers, staff and school director; tour the premises; review the Montessori programmes and curriculum; and discuss other topics that may be of interest to many parents in search of a Montessori school for their child.
"We are Northridge Montessori School, a caring preschool committed to the personalized development of the entire child. We have been serving the Mississauga area since 2004!", said Mrs. Munira Hyder, Directress/Supervisor and Owner of the school, "Our mission is to provide an enriched educational curriculum that encompasses a commitment to the whole child – academic, physical, emotional, and social – in a safe and nurturing environment that fosters a love of learning. We achieve this by implementing the Montessori philosophy of education and by continually collaborating with parents who are the children's first teachers."
Northridge Montessori offers an exceptional educational program that combines a wide range of social activities with a broad academic curriculum. Their program is based upon the educational philosophy of Dr. Maria Montessori and is designed for children from 18 months to 6 years old.
Among other things, they have: large and bright premises with large windows; access to an indoor gymnasium; a large outdoor playground; open throughout the year including summer, March and winter breaks; Free Before and After school program; and also hot and nutritious lunches and snacks prepared daily on site by their qualified chef.
"We invite parents to drop in, take a tour and explore the options we provide for your child to obtain a quality education at Northridge Montessori School.", added Mrs. Munira Hyder.
They would also like to announce that if parents register by November 30, 2017, they will receive a Free Registration Gift (Backpack with Books and Stationery set – $50 Value). And if they register before December 31, 2017, they will be entered for a chance to Win a Brand New Samsung Tablet ($300 Value).
Registration appointments are available during the Open House dates and during Weekdays from 9am to 5pm. Spots are limited so they urge parents to call as soon as possible to register.
Check out their website at www.northridgemontessori.com or contact Mrs. Munira Hyder directly at 905-281-0840 for more information about Northridge Montessori School.
Release ID: 253375