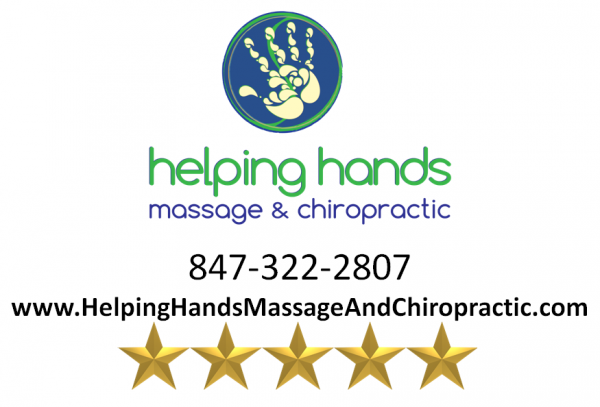 - February 12, 2019 /PressCable/ —
Helping Hands Massage & Chiropractic is celebrating their 7th Anniversary, which commemorates 7 fantastic years in business. This is a huge milestone for the Northbrook IL-based massge & chiropractic clinic, which has provided massage therapy, chiropractic care and physical therapy services to the North Shore Area since 2012.
Helping Hands Massage & Chiropractic got it's start in 2012 after founder Dr. Jose Aguilar, Dc grew up watching his mother go from debilitating migraines that severely affected her ability to care for her family to having them completely resolved due to chiropractic care. Dr. Jose Aguilar had found his calling.
One of the earliest challenges Helping Hands Massage & Chiropractic faced was letting the community know who they were and how they were different from other clinics.
While every business of course faces challenges, some, like Helping Hands Massage & Chiropractic are fortunate enough to enjoy real successes, wins and victories too. Once such victory was the ability to prove to the insurance companies the medical necessity for incorporating consistent massage therapy treatments as part of the prescribed plan AND have it be covered by the insurance plans.
Dr. Jose Aguilar, Clinic Owner at Helping Hands Massage & Chiropractic was also quoted when discussing another big win. "One of the high points of Helping Hands Massage & Chiropractic's history so far was being selected as the "Best Chiropractor in Northbrook" 3 years in a row by the Northbrook Awards Committee. It really solidified that the community was supporting us and were happy because they were getting the results they were looking for."
Helping Hands Massage & Chiropractic's Founder, Dr. Jose Aguilar, DC says "We're delighted to be celebrating our 7 Year Anniversary. I believe the secret to getting this far in business today is being patient centered. People of all walks of life come in for different conditions and it's up to us to determine what the best course of care for that individual is. Every BODY responds to care differently, so using my training and clinical experience I must put a plan of action into play to benefit that person or else they'll never get the results that THEY want. "
Helping Hands Massage & Chiropractic currently consists of 4 employees and just recently relocated the office. The new address for the ofice is: 1526 Shermer Rd Ste B, Northbrook IL 60062. They are conveniently located 2 blocks south of the downtown Northbrook train station. Along with the move, they have some big plans for the upcoming year. One of their core objectives is helping families in the community be the healthiest they can be. By providing care to the families of the community it can increase the expression of health and wellness versus sickness and disease.
Helping Hands Massage & Chiropractic would also like to thank friends, customers and all its partners for their well wishes on this happy occasion.
More information on the business can be found at https://www.helpinghandsmassageandchiropractic.com/
Release ID: 481009