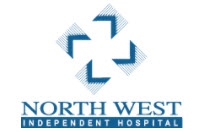 - May 8, 2017 /PressCable/ —
North West Independent Hospital, one of the longest established private hospitals in Londonderry, Northern Ireland that has been delivering patients with high quality healthcare since 1989, this week officially unveiled their brand new, updated website interface that makes perusing the website and viewing the site on mobile devices easier than ever before.
Created to provide the best possible patient experience to all Northern Ireland residents in need of professional medical support, North West Independent Hospital wanted their website experience to be reflective of their customer service dedication.
"We wanted our new website to responsive in design and optimized for mobile viewing since the majority of web browsing happens from phones today," said Philip Stewart, Founder and Director at North West Independent Hospital. "Our new design is laid out to be eye-catching, clearly organized, and broken down by hospital departments so clients can easily read the information they seek."
The new website features a portal for treatments & procedures, patient information, and consultants. Within the categories, patients can check out information on Cosmetic Surgery, Tests, Scans & Investigations, Treatments & Surgical Expertise, and Specialist Outpatient Clinics. Under the Patient Information portal, the site contains Accessing Treatments, Paying for Treatments, About Your Stay, About Your Child's Stay, Visiting Patients, and a Complaints Procedure to cover everything a patient could need.
At the top of the site, visitors can scroll through a News tab, Patient Testimonials, Careers, About North West Independent Hospital, and information for immediately contacting the hospital.
"We know everyone lives incredibly busy lives today, and most people don't have the time to make phone calls and dig around the Internet for vital information," said Mr Stewart. "With our new platform, all of the information patients need is available directly at their fingertips. Spread the word on the official rollout of our new website layout, and head on over today to learn more about our services, expertise, and patient commitment here at North West Independent Hospital."
Additionally, site visitors have the opportunity to learn more about the hospital's treatment access, how to pay for treatments, and the certified staff in each department.
As an organization, North West always puts patients first, provides a supportive staff during the entire hospital stay, continuously seeks to improve the patient experience, and works in partnership with others for furthering their provided services.
For more information, visit: https://www.nwih.co.uk.
North West Independent Hospital
Church Hill house, Main Street, Ballykelly
BT49 9HS
028 7776 3090
Release ID: 195297