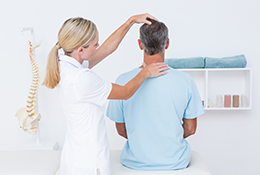 - March 4, 2021 /NewsNetwork/ —
Simply in Demand Chiropractic in North Phoenix has launched an update to its chiropractor service. The Arizona-based company specializes in providing chiropractic care, acupuncture, and veterinary orthopedic manipulation (VOM) animal adjusting services to its Phoenix clients.
More information can be found at https://simplyindemandchiropractic.com
The newly updated service entails the use of an activator to make spinal adjustments. This is an improvement from the typical twisting and cracking of the spine as is customary at other chiropractic centers.
This service is run by Dr. Kelli, who is a very experienced chiropractor. Dr. Kelli is well-liked by patients who experience pain relief from her individualized treatment plans.
According to a representative for the chiropractic center, Dr. Kelli is known for her approach to chiropractic and her effective treatment plans. It is the goal of the physician and the team at Simply in Demand Chiropractic to help patients live life without the pains that hinder everyday activities.
The team of specialists understands that proper chiropractic treatment requires communication between and participation from the medical professional and the patient. Once this takes place, the treatment plans are customized according to the patient's needs, and support is provided throughout the process.
"The team will take the time to listen to all of the patient's concerns and problems in regards to the pain before developing an effective treatment plan," the representative stated.
In addition to providing activator-method chiropractic care, the team at Simply in Demand Chiropractic also works to equip patients with knowledge of effective stretches and exercises that can be performed at home. This serves as a means of continued treatment, which patients can do independently for their benefit and overall recovery from the pain caused by back injury or other health issues.
Simply in Demand Chiropractic's team of specialists prides itself on providing a warm and welcoming atmosphere. The team remains ready and able to help patients live life without the worry of chiropractic pain encroaching on their everyday life activities.
For more details, interested parties in Phoenix, AZ can click on the link above.
Release ID: 88999654