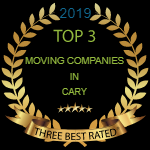 - September 11, 2020 /NewsNetwork/ —
Cary Moving, an award-winning moving company based in the North Carolina area has launched an updated website to present its full range of services and supplies. The company, headquartered in Cary, NC makes use of its brand new vehicles to provide local moving help in Raleigh, Durham, Cary, Apex, Holly Springs, Fuquay-Varina, Garner and Morrisville. They also specialize in long-haul and cross-country moving services.
For more information see the updated site at https://www.carymoving.com
Recent data from the US Census Bureau indicates that more than 10% of Americans are moving homes each year. In 2018, 32 million Americans changed their place of residence. Whether for reasons of lower taxes, preferable weather, or more affordable living rates, the decision to make out of state moves is an increasingly common one. Those who are seeking to move locally or across state lines can now use Cary Moving's updated website to request free pricing quotes and review service areas.
The company's lead mover Greg Cable explains that "moving can be stressful, and that's why we do everything we can to simplify the process." Benefiting from more than two decades of experience, their services aim to reduce the inherent stress involved in moving homes.
Their renewed website launch boosts the online presence of Cary Moving's trained team of detail-oriented professionals. Its pages present the company's demonstrable expertise in moving boxes and trailer hitches, as well as custom packing, loading and unloading. Moreover, details about necessary equipment and supplies for moving are included, ranging from boxes, paper and packing materials to tape and padding for the protection of valuable items.
Along with tips and checklists for prospective movers to consider prior to relocating their home or business, the website features guides to essential organizations that should be notified about any change in address. The website is further designed to aid in the necessary logistic preparations for packing and transporting belongings across long distances.
To get more information on the full range of services offered by Cary Moving, inspect their inventory of items able to be moved, or to request a free on-site estimate, visit the website at the above URL.
Release ID: 88976421