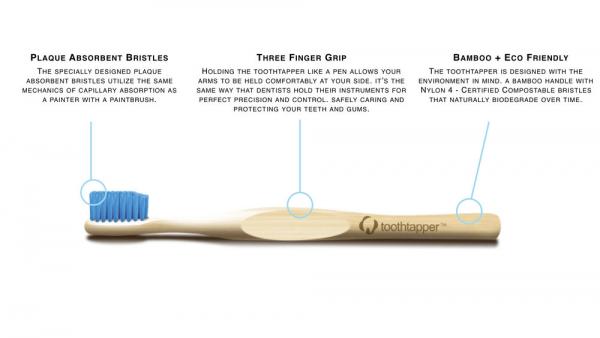 - November 6, 2019 /NewsNetwork/ —
Toothtapping Technologies announced the launch of Toothtapper, a non-toothpaste eco-friendly bamboo camping toothbrush. The toothbrush features a new grip design that facilitates a three-finger pencil grip and and a new brushing technique.
More information about Toothtapper is available at https://breathealer.com/products/bamboo-toothtapper
According to a report in National Geographic, the US disposes of more than 1 billion toothbrushes year, 99 percent of which are made of plastic. These plastics break down into microplastic particles that pollute sea salt and contaminate fish. The launch of Toothtapper is a biodegradable alternative that drastically lowers environmental pollution caused by dental hygiene products.
Toothtapper is a bamboo toothbrush that can be used without water because it uses the natural lubrication of the user's saliva. Toothtapper works as a camping toothbrush because it does not require toothpaste or any other form of abrasive dental hygiene product.
The certified compostable bristles are designed to absorb plaque by a mechanism of capillary action and are mounted on a natural bamboo handle. The handle is equipped with a special notch that enables a comfortable pencil grip.
The Toothtapping technique uses a grip that is similar to the one used by dentists and dental hygienists to maximize control. This non-abrasive technique uses saliva to naturally disinfect the mouth and gently remove plaque without damaging gums or enamel. The technique avoids the use of harsh and abrasive chemicals found in toothpaste.
Toothtapping Technologies documents that new toothbrush for camping and the Toothtapping technique help users achieve fresh breath, healthier gums, and fewer dental visits for scaling. Toothtapper brushes are available in singles or packs of three. The company recommends that users replace worn brushes every three months or as needed.
According to a spokesperson for Toothtapping Technologies, "Dr. Golding's four decades of professional experience have been the perfect platform to take common dental issues, study them intensely, and ultimately, effect change in people's lives. We are delighted to announce the launch of Toothtapper as a new way to enjoy healthy teeth for many years to come."
Toothtapping Technologies is an environmentally responsible oral health solutions company headed by certified dentist Dr. Derek Golding. The company develops innovative and user-friendly products that ship to the USA, Canada, and the United Kingdom.
For more information about biodegradable dental hygiene solutions, visit the URL above.
Release ID: 88932532