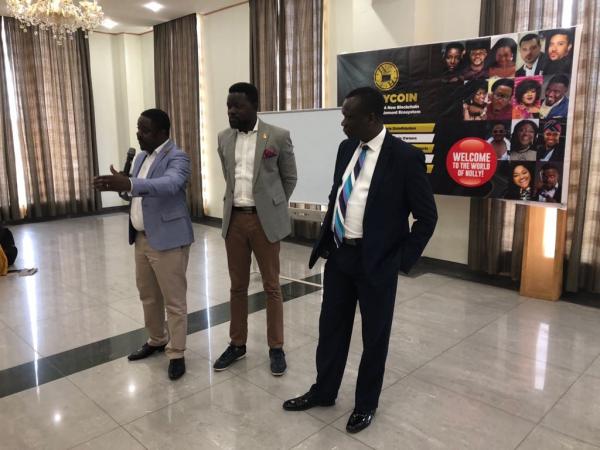 - March 21, 2018 /PressCable/ —
Blockchain-powered Entertainment Company, Nollytainment Inc. and Cryptocurrency Investment Organization, The Bitclub Network have announced a strategic partnership going forward. They also agreed to a deal to help bring Blockchain technology to Movie Distribution in developing nations through the Nollycoin ICO.
Full details on the partnership can be viewed here: Nollycoin Endorsed by Bitclub Network
The partnership involves Bitclub Network, The Top Crypto Investment Pool in Africa, endorsing the Nollytainment's Nollycoin ICO and a private presale deal to bring Blockchain to movie distribution in Nollywood and movie industries of other developing countries. This will enable both organizations achieve their goals of providing tremendous value to their communities through the utility and benefits provided by the Nollycoin ICO.
As part of the dividends of this endorsement and partnership deal, customers of the Bitclub Network and their crytpo enthusiasts will get a special deal to participate in the ICO of the 1st Blockchain powered Movie Distribution; they get a special bonus for purchasing Nollycoin Tokens during the presale period at ico.nollycoin.com. They also get an exclusive first mover access deal to Nollycoin tokens in their space; and use Nollycoin as a utility to access movies and products in the Nollytainment;s new movie distribution ecosystem.
As part of a long-term strategy, the two companies hope to continue introducing other products and services to maximize the dividends of blockchain technology and cryptocurrency phenomenon for their communities, and improve movie distribution in developing countries and beyond.
When asked about the new joint venture, Dr Ope Banwo, the Founder/CEO of Nollytainment Inc. said, "this development is a game changer for us in our Nollycoin ICO campaign and our vision of successfully introducing blockchain technology into the movie distribution industry. This is a great breakthrough in our efforts to engage top cryptocurrency professionals in our crowdfunding campaign for our project. We are excited to be working with this accomplished group of crypto players".
Mr Victor Ganzalo of Bitclub Network is also excited about the venture, saying "We are thrilled to be partnering with Nollytainment to bring blockchain technology to developing nations. We at Bitclub Network know that blockchain is the next big thing in movie distribution among other things, and we consider it an honor to be part of the very first project to apply the new technology to the film industry".
Current and future customers are invited to learn more about the Nollytainment's Nollycoin ICO and how they will benefit by visiting the website at https://ico.Nollycoin.com/.
About Nollytainment Inc. and Bitclub Network
Nollytainment Inc. was founded in 2017 and serves the Entertainment industry. It is currently raising funds, through the Nollycoin ICO, for its vision of creating a new blockchain-powered entertainment ecosystem for Movie Distribution. Bitclub Network, founded in 2013, is a community of people who are interested in making money with Bitcoin and other crypto-currency opportunities.
Release ID: 317195