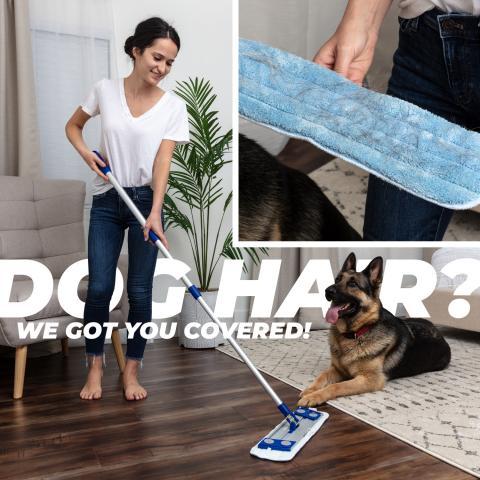 - November 30, 2020 /PressCable/ —
Since the start of the coronavirus lockdown, pet shelters across the country have almost emptied their kennels thanks to many stepping up and adopting more pets. With such an increase of pets in peoples houses though, there is also an increase in pet hair and fur needing to be cleaned up off the floor.
"Using a vacuum cleaner can be very time consuming and uncomfortable compared to using a microfiber mop", claims Brian from Temples Pride, the creator of the Dredge microfiber mop kit.
Here is what KK said in a review of the Dredge mop on Amazon, "Love this mop, we have two hairy dogs and it picks up pet hair great. The mop handles mopping perfectly as well."
"Our mop kit is unique in that it does not just come with one type of universal wet/dry pad used only for mopping, it includes a special dry-only pet hair pad. The pet hair pad has a different texture which literally acts like a hair and fur magnet. That is it's specific job", he said.
He went on to say that "Once you experience how quick and easy it is to simply glide over your floor with a microfiber mop pad in seconds, you would not want to go back. There are so many benefits to using a flat mop, it's not noisy and it does an even better job than a vacuum because it wipes the floor clean of dust too, which the vacuum misses"
According a study done by the United States Environmental Protection Agency (EPA) "microfiber also has a special ability to remove bacteria compared to cotton mops that just move germs around"
Temples Pride has been selling their Dredge microfiber mop kit on Amazon since 2016. More information about Temples Pride and their microfiber mop is available on their website below.
https://www.amazon.com/Professional-Microfiber-Resistant-revolutionize-Experience/dp/B01AZLM64G
Release ID: 88987498