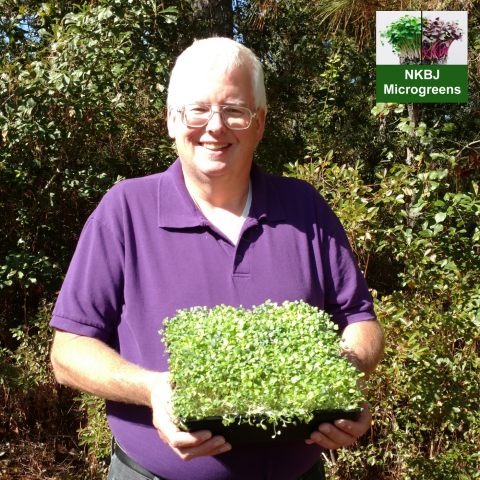 - September 30, 2020 /NewsNetwork/ —
Michael Simons celebrated the one year anniversary of NKBJ Microgreens in August by introducing Mesclun Salad Mix as the third type of microgreens salad mix he grows to meet the needs of customers in the greater Aiken, SC, area.
Microgreens are the nutrient dense seedlings of vegetables and herbs that contain 4-to-40 times more nutrients than their mature counterparts.
The microgreens in Mesclun Salad Mix are arugula, endive, kale, lettuce, mustard, spinach and Swiss chard.
"Mesclun salad mix microgreens enliven any selected food, from eggs to salads to plain baked potatoes. Beside a little crunch, it adds a hint of spice, not too much, just perfect," stated Barbara S., an NKBJ Microgreens Subscription Program member who lives in Aiken. "Also, the mix flavors meats, poultry and fish, adding a new seasoning to make the meal interesting. I have ordered the mesclun salad mix, along with my staple arugula a number of times, including this week."
Michael Simons founded NKBJ Microgreens in 2019 when he saw the need to provide health-conscious consumers with locally grown, nutrient-dense, freshly harvested microgreens. He currently grows 8 different kinds of microgreens that have a variety of colors, textures, flavors, and nutrient profiles.
Simons states that he is proud of the fact that his premium microgreens are "grown with love in Aiken County, SC" — not outsourced. He found that his commitment to growing microgreens with strictly non-GMO seed — and organic seed when he can get it — resonates with consumers at home and with chefs at area restaurants. They also appreciate his dedication to using no fertilizers, no fungicides, no herbicides, and no pesticides in his microgreens operation.
From October 2019 until mid-March 2020, Michael and his wife Vicki faithfully sold their products at a local market on Saturdays. During that time, they built a customer base — including 3 area restaurants — with whom they were able to stay in touch when the market closed.
While the market was closed, NKBJ Microgreens continued to meet customers' needs at an alternative location. The couple found that delivering their products directly to homes and businesses exclusively through their Subscription Program meets customer needs better than returning to the market that imposed restrictions on both vendors and customers.
"I order microgreens from NKBJ Microgreens every week and I love them! As a Subscription Program member, not only do I receive their best prices, but the microgreens are delivered right to my home," said Michelle A. of Aiken. "Talk about the ultimate in convenience! I don't have to go visit a market during certain hours in order to get the fresh, delicious, healthy microgreens that add so much flavor and texture to my meals."
Michael Simons provides free delivery of microgreens in either live grow trays (customer care and harvest) or deli trays (recipe ready harvested product) to those who place a minimum order.
Inquiries may be made by texting Michael at 803-295-8784 or sending an email through the form on their website:
Release ID: 88978996