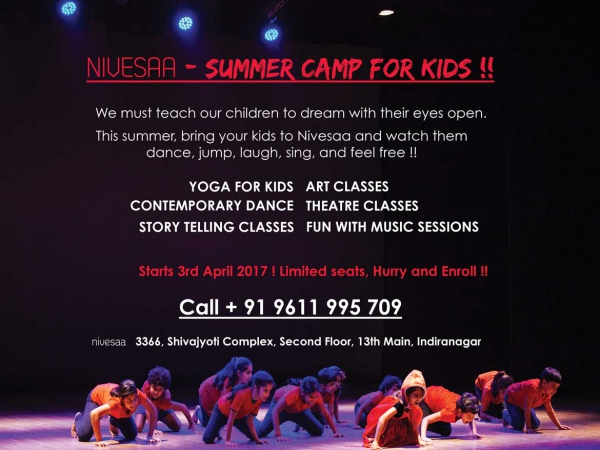 - March 25, 2017 /PressCable/ —
Parents looking for the latest summer camp for their kids in Indiranagar will soon be able to get their kids involved with Nivesaa. Today Sahiba Singh, Co-founder at Nivesaa releases details of the new Summer Camp For Kids 2017 In Indiranagar Bangalore.
The camp is designed to appeal specifically to kids having summer vacations in their schools and includes:
Exposure and Opportunity – This feature was included because kids are all multi-talented and capable of creative pursuits in various ways. What is required for it to blossom though is exposure and opportunity. That is precisely what this camp aims at offering. This is great news for the parents as it will develop kids not only in their skills but in their personalities as well.
Exploring Art Forms – This was made part of the camp, since dance and theater, art and craft, yoga and music make up almost the entire gamut of art forms that kids should be exposed to and should be nurtured in exploring the same. Parents who send their kids to the camp would love this feature because each art form is special and may kindle an interest in their children, one that may become a source of exploration and happiness over their lifetime even if not pursued professionally.
Safe Environment – Nivesaa made sure to make safety the main feature of Summer Camp For Kids 2017 In Indiranagar Bangalore with measures like a strict No-Bollywood policy and all female teachers managing the show. Focus on learning of classical forms has placed this summer camp on a solid foundation aimed purely at letting children find joy while also ensuring they are in a safe and trusting, inclusive and encouraging environment.
Parents will likely appreciate all this in Summer Camp For Kids 2017 In Indiranagar Bangalore because their kids will get an opportunity to learn Ballet, Contemporary and Nivesaa's special fun-filled dance version named Masti-mania; they will learn yoga and stretching exercises which help lay a foundation for great physical posture and wellness; they will learn expression with speech modulation and correction as part of theater; they will explore putting their fingers to work at wonderful crafts and they will delve deep to search their musical instincts… all in a matter of two months. Pursuing it further is always advised for each kid as per her/his individual interest.
Sahiba Singh, when asked about her Summer Camp For Kids 2017 In Indiranagar Bangalore said:
"Art creates a special fulfillment in life. We, at Nivesaa make it our mission to share this with as many people as we can; and what's better than inviting children into this amazing world of art!"
This is the latest offering from Nivesaa and Sahiba Singh is particularly excited about this launch because she loves kids passionately and wants them to develop as thoroughly as they can.
Those interested in learning more about Nivesaa and their Summer Camp For Kids 2017 In Indiranagar Bangalore can do so on their website at http://nivesaa.com/summer-camp-for-kids/. Parents can also get their kids admitted by paying online at http://nivesaa.com/product/summer-camp-for-kids-2017/ .
Release ID: 180156