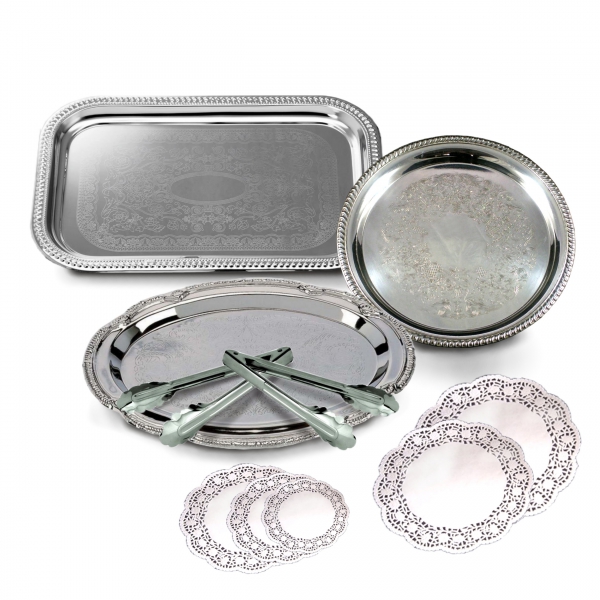 - January 17, 2017 /PressCable/ —
Classic Vibe Décor, a company specializing in home décor products and gift ideas, launched a new set of nickel plated party serving trays and platters.
More information is available at https://amazon.com/dp/B01MYYQXJI.
Solid plates and serving trays are a must for all home or corporate parties, as they provide a reliable, liquid-resistant solution for serving different foods and beverages.
Cardboard plate alternatives are not entirely suitable for serving purposes, as they tend to deteriorate under hot liquids or foods, and they cannot hold large portions. Large parties many times require metal serving plates that can hold appetizers for up to ten people at a table and that can be moved from person to person easily. For obvious reason, cardboard plates are not suitable for such purposes.
Tongs are also important for quality food serving, as they are suitable for picking a wide range of items, from fruit to cheese or crackers. Again, solid metal is much more reliable than other softer materials, as tongs need to be able to hold repeated use by many people.
The new nickel-plated set of serving trays and platters launched by Classic Vibe Décor features three nickel plated metal trays of different shapes and sizes, two sets of stainless steel serving tongs, and a set of paper doilies.
The nickel-plated steel appetizer plates come in three different shapes: a round plate with 10" in diameter, a rectangular 10×8" and an oval 12×9" plate. The sizes have been carefully chosen to for a wide range of purposes, from elegant bridal shower parties, book club meetings, and a host of smaller gatherings. Each plate features decorated edges and interiors for increased elegance.
Two sets of stainless steel tongs also come with the new Classic Vibe Décor set, each of them tailor-suited for a variety of foods, including dessert, meat, fish, fillets and more.
Finally, the set includes a set of paper doilies which can be used for a variety of serving purposes, such as protecting tables or for food serving presentations.
Interested parties can find more information by visiting the above-mentioned website.
Release ID: 161926