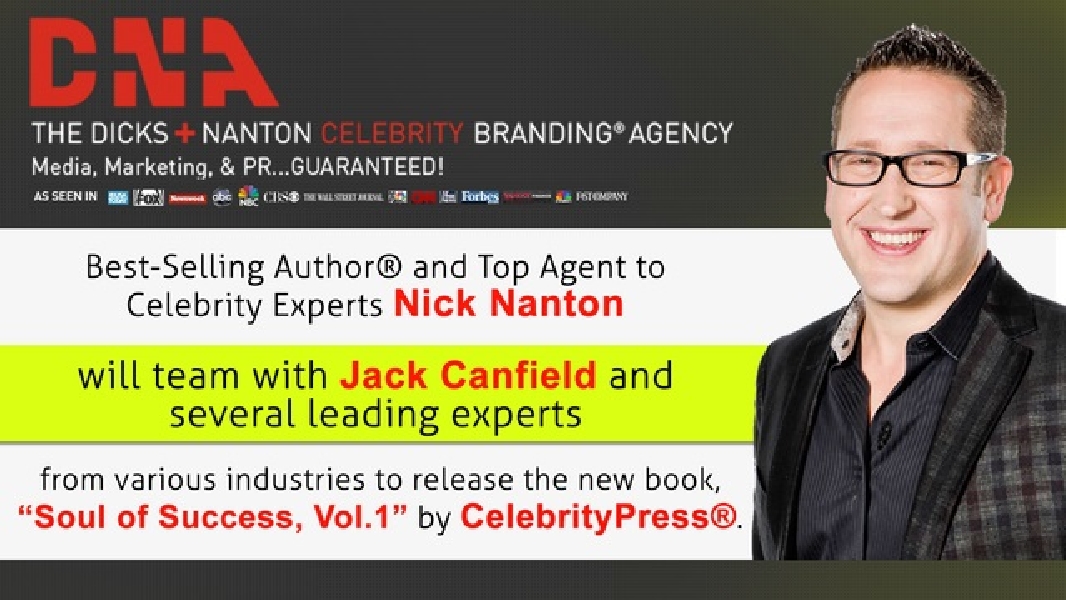 - May 28, 2015 /PressCable/ —
Winter Park, FL — Personal branding expert Nick Nanton, Esq. has joined a select group of business experts and entrepreneurs from around the world, along with Best-Selling Author® Jack Canfield, originator of the Chicken Soup for the Soul® series, to co-write the forthcoming book titled, Soul of Success, Vol.1: The World's Leading Entrepreneurs and Professionals Reveal Their Core Strategies for Getting to the Heart of Health, Wealth and Success. Nick along with business partner, JW Dicks, Esq. recently signed a publishing deal with each of these authors to contribute their expertise to the book, which will be released under their CelebrityPress® imprint.
The authors contributing to Soul of Success, Vol.1 include: Jack Canfield, , Nick Nanton, JW Dicks, Danny Nguyen, Janet Fouts, Darryl Franklin, Terry Dennis, Robert Norton, Brenda McGuire, Kenan Godfrey, Paul Emery, Antonio Cigno, Christian Koch, Joe Gleason, Trish McCarty, David Ruggieri, Carol Slinn, Craig Simmons, Fritz Engels, David Wells, Lori Losch, Robin Osborn, Bridget Riley, Kate Siner, Jin Robertson, Dr. Jennifer Harrison, Sally Marshall, Sussi Mattsson, Henrik Rosvall, Dr. Fred Rouse, Kanta Motwani, Nicholas Cooper-Lewter, Katherine Andersen, Jenn Wenzke, Rabiah Sutton, Steve Renner, Ursula Gerard, Thomas Cummings, Hagop Emrazian, P Ruth Doneson, Vincent Monticciolo, Jeanne Forrest, Sandra Olson, Lewis Lawrence, Marie Banuelos, Wendy Burruel, Kathryn Gruhn, Janice Quigg, Dawn Romeo, Denny Floden, Marlon Bentley Murdock, Mary Donohue, Gila Belfair, Vera Germanus, Deirdre Morris, Ulrich Kellerer, Jocelyne Lafreniere, Jean Schoenecker, Nathan Ohren, Robert Sholly, Lem Truong and Shanna Landolt.
The previous best-selling collaboration between CelebrityPress® and Jack Canfield, titled Dare To Succeed, reached best-seller status in eight separate Amazon.com categories. Soul of Success, Vol.1 will be released later this year.
A portion of the royalties earned from Soul of Success, Vol.1 will be donated to Entrepreneur's International Foundation, a not for profit organization dedicated to creating unique launch campaigns to raise money and awareness for charitable causes.
Soul of Success, Vol.1: The World's Leading Entrepreneurs and Professionals Reveal Their Core Strategies for Getting to the Heart of Health, Wealth and Success is tentatively scheduled for release in the Fall of 2015.
About Nick Nanton, Esq.:
A 3-Time Emmy® Award Winning Director, Producer and Filmmaker, Nick Nanton, Esq., is known as the Top Agent to Celebrity Experts® around the world for his role in developing and marketing business and professional experts, through personal branding, media, marketing and PR. Nick serves as the CEO of The Dicks + Nanton Celebrity Branding Agency, an international branding and media agency with more than 2200 clients in 33 countries. Nick has produced large scale events and television shows with the likes of Steve Forbes, Brian Tracy, Jack Canfield (Creator of the Chicken Soup for the Soul Series), Michael E. Gerber, Tom Hopkins, Dan Kennedy and many more.
Nick is recognized as one of the top thought-leaders in the business world speaking on major stages internationally and having co-authored 34 best-selling books, including the Wall Street Journal Best-Seller, StorySelling™.
Nick has been seen in USA Today, The Wall St. Journal, Newsweek, BusinessWeek, Inc. Magazine, The New York Times, Entrepreneur® Magazine, Forbes, FastCompany.com and has appeared on ABC, NBC, CBS, and FOX television affiliates around the country, as well as E!, CNN, FOX News, CNBC, MSNBC and hosts his own series on the Bio! channel, Portraits of Success.
Nick is a member of the Florida Bar, a voting member of The National Academy of Recording Arts & Sciences (Home to The GRAMMYs), a member of The National Academy of Television Arts & Sciences (Home to the EMMYs), The National Academy of Best-Selling Authors, and spends his spare time working with Young Life, Downtown Credo Orlando, Entrepreneurs International and rooting for the Florida Gators with his wife Kristina and their three children, Brock, Bowen and Addison.
Learn more at http://www.CelebrityBrandingAgency.com and http://www.NickNanton.com
About Celebrity Press®:
Celebrity Press® is a leading business, health and wellness book publisher that publishes books from thought leaders around the world. Celebrity Press® has published books alongside Jack Canfield, Brian Tracy, Dan Kennedy, Dr. Ivan Misner, Robert Allen and many of the biggest experts across diverse fields. CelebrityPress™ has helped launch over 1500 best-selling authors to date.
Learn more at http://www.celebritypresspublishing.com
###
Release ID: 82991