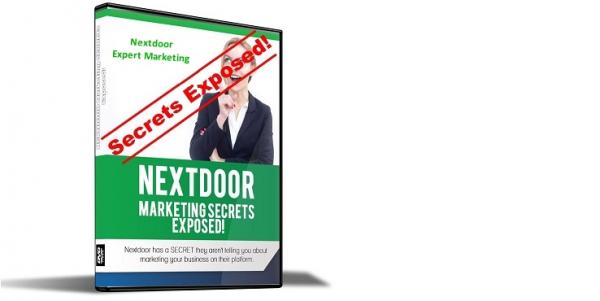 - September 26, 2020 /PressCable/ —
Earlier today, ComXL Digital announced the launch of Nextdoor Expert Marketing, its new Video Course set to go live 09-26-2020. For anyone with even a passing interest in the world of marketing a business, this launch will be worth paying attention to, as it's set to shake things up.
Currently, with even a passing glance, a person will notice the value and the difference that this method makes for business. Going into business for yourself is exciting and fun but if money can't be made then it can be grueling and depressing. This Marketing course was designed to create instant awareness and get the phone ringing. As mentioned before, if businesses do not show up in the time of someone's need, they will not get that business. The CE at ComXL Digital, Robert DeLeon, makes a point of saying "things are going to change when Nextdoor Expert Marketing launches".
Robert DeLeon continues… "Where you'll always see our competitors doing the same old thing, this video course will teach a marketing method being used by a very small group of business owners that is creating leads for them over and over again. This marketing method is being used on the Nextdoor platform and local business owners are quietly crushing it. This works great for home service businesses and has also been tested on different niches such as Private Chef, Mortgage Lender, Auto Glass Repair, and even Wellness clinics and more. This information is ground breaking and easily learned and implemented. This is not rocket science, it's just information that almost all business owners do not know. This video marketing course does it differently because during an unprecedented time like this, business owners need any advantage they can get to be visible and get the word out to the masses that they are still in business or re-launching. This Nextdoor method is just the thing to reach those local consumers making a difference for both the business and the consumer. Ultimately this is going to be a huge benefit to our customers because this is not a one time trick. This is a marketing method that can be used over and over again, driving traffic, sparking phone calls, and even emails and inquiries. When your service is the one that shows up first when people are looking for it, you will get that call over and over again. When you don't show up and people are looking for your service or product, you will never get that business. Our Nextdoor marketing method teaches you how to show up at the top so you can be the one getting the business."
ComXL Digital was established in 2010. It has been doing business for over 10 years Since 2010 and it has recently aimed to educate the local community during this time of need so they can all rebound and live higher quality lives. Communities will rebound and the ones that take advantage of this information will remain in the forefront of their respective niche constantly gaining new leads, sales and valued customers. If a business is not gaining new customers then that businesses is dying. This nextdoor marketing method does the opposite and teaches how to show up on top where the customers are. This is awesome because it's very new and the majority of the population doesn't know about it yet. When you jump in now you are getting an unfair advantage over your competition. This is how you get to the top and stay there.
Currently, the closest thing to Nextdoor Expert Marketing is landing on the first page of Google., but Nextdoor Expert Marketing improved on this by making it easier to land at the top of the Nextdoor platform. You don't have to wait 3 months, 6 months, or a year to rank on top like you do on Google. You can rank at the top of Nextdoor within a few days and it's extremely effective. This alone is predicted to make ComXL Digital's Video Course more popular with customers in the Local Business community, quickly.
Once again, Nextdoor Expert Marketing is set to launch 09-26-2020. To find out more, the place to visit is http://www.blueoceangoldmine.com/
For further information about ComXL Digital, this can be discovered at http://www.comxl.com/
Release ID: 88978448