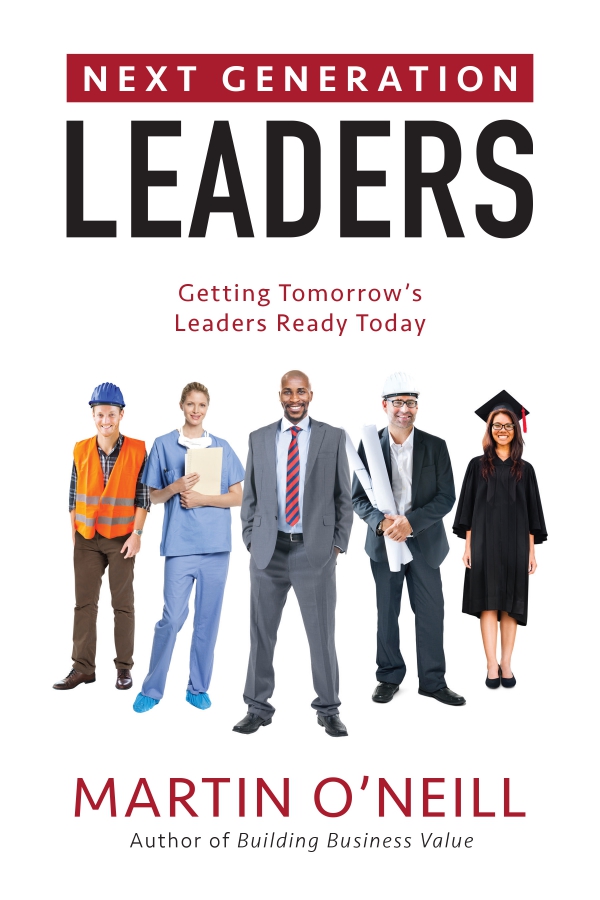 - September 28, 2016 /PressCable/ —
Martin O'Neill has announced the release of his new book Next Generation Leaders: Getting Tomorrow's Leaders Ready Today. The book focuses on helping companies grow staff, better serve clients and build their businesses.
More information on Next Generation Leaders can be found at: http://martinoneill.net.
Training Magazine reports that while leadership development earns a top spot year after year on organizations' talent priority lists, 36 percent do not have a formal leadership development strategy, according to 2015 Brandon Hall Group's State of Leadership Development Study.
The Center for Public Leadership at Harvard University showed that as many as 70 percent of Americans blame leadership crisis as a factor in the national economic decline, even though in the last decade companies allocated more funds than ever to train their executives.
Next Generation Leaders is designed to help individuals understand today's business climate by developing the skills needed to form and lead teams effectively, become a trusted advisor to their stakeholders and help them shape and grow their business.
CEOs say the development of their companies' middle managers is a critical success factor, but research indicates that only 28 percent of companies have a program in place that addresses their needs. Next Generation Leaders was designed to help organizations develop middle managers.
O'Neill is the author of The Power of an Internal Franchise, Building Business Value, and Act Like an Owner. He has more than 30 years of experience in the business realm and has acquired perspective and depth of experience to guide leaders in industry and the public sector.
After facilitating more than 100 meetings and planning sessions with companies including Boeing, Constellation Energy and Northrop Grumman, O'Neill created a 12-course online leadership development program with the same title and goals of his book, "Next Generation Leaders."
Martin O'Neill developed Next Generation Leaders to benefit team leaders, project and program managers, practice leads, field supervisors, future leaders and those with an interest in growing their leadership skills.
"As the owner of a consulting firm, the author of four books and an established businessman with more than 30 years of experience, I've encountered the highs and lows of the business world. Through these valleys and peaks, I've built a leadership process for building value," O'Neill said.
More about Next Generation Leaders and Martin O'Neill can be found by visiting the website listed above.
Release ID: 134853